Skipper Barker is relegated to a chase boat while another takes the wheel.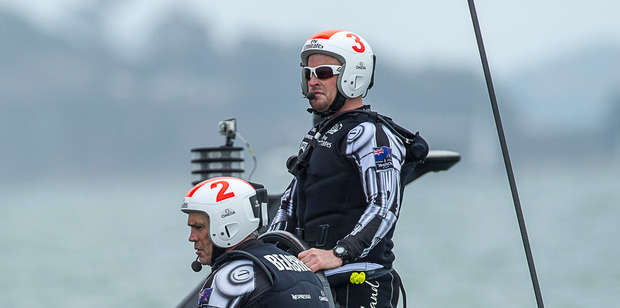 Rotation was the order of the day on the water in the America's Cup as some emails reveal some of the political pressures at play on shore.
Emirates Team New Zealand put usual wing trimmer Glenn Ashby - the man with the greatest multi-hull experience in this team - on the wheel in place of Dean Barker, who watched the race from a chase boat.
That change is a just-in-case manoeuvre by Team NZ. Barker's participation is key in this regatta but they also have to plan for the unexpected.
It passed without incident yesterday - though the camaraderie within the team was seen as the crew mock-prevented Barker from leaving the boat before the race yesterday.
They perhaps did not foil or perform foiling gybes as consistently as previously - though the light average wind of only about 13 knots had a bit to do with that. It got up over 15 knots at one stage and they hit a maximum speed of nearly 34 knots.
Ashby is highly talented but the team are not brimming with options at the helm. Ashby is a 14-time world champion across three classes, including seven in the A Class catamaran and three in the Tornado catamaran. He has also won a silver medal at the 2008 Olympics and 10 Australian A Class championships.
He also taught crack Oracle skipper Jimmy Spithill how to sail a multihull, which led to Spithill becoming the youngest skipper to win the America's Cup in 2010.
Oracle have Spithill, the hugely decorated Ben Ainslie, John Kostecki and even Tom Slingsby as potential skippers should circumstances dictate. That is quite an array of talent.
Luna Rossa have Max Sirena, Chris Draper (who has been doing most of the driving so far), Paul Campbell-James and Francesco Bruni available; Artemis have Iain Percy, Nathan Outteridge, Loick Peyron and, arguably, Paul Cayard to call on.
So the outing for Ashby makes sense.
Meanwhile, sailing website, blog and newsletter Scuttlebutt recently published an analysis critical of the handling of a lawsuit aimed at Golden Gate Yacht Club brought by a black American sailing group.
They hope to gain an injunction on August 23 to halt the Cup as they allege they were unfairly prevented from sailing against Oracle in a defender series.
After the article was published, Scuttlebutt suddenly took it down and published a new piece which said, in part: "Upon review, Scuttlebutt disavows that article and regrets promoting this legal matter of, at best, dubious merit, and will now focus on the competition of the 34th America's Cup, which is where our attention should be for this historic event."
However, the New York Times yesterday published a story which included reference to emails it had garnered, said to be from America's Cup director of external affairs (and vice-commodore of host yacht club Golden Gate), Tom Ehman, putting pressure on Scuttlebutt to remove the post.
"Responsible journos" who had looked into the lawsuit, Ehman wrote, have "long since dismissed it as an attempted shakedown or worse of GGYC/ACEA (the America's Cup Event Authority) / LJE (Oracle's billionaire backer Larry Ellison)". The paper also said Ehman added: "Are you the responsible voice of American sailing like Scuttlebutt used to be, or vying to be the latest and greatest sailing tabloid?"
Ehman has been at pains to emphasise GGYC has no case to answer. Most believe the lawsuit will either come to nothing or will be settled out of court - and that the regatta will not be halted so the petitioner can get a boat and crew together for racing.
Oracle, meanwhile, continue to show every confidence in their campaign programme, with No 1 skipper Spithill not even in mainland America.
He is due to take part in an island-to-island paddleboard championship tomorrow (NZT). Oracle do not race until August 7 but it is difficult to imagine Barker being allowed to quit training and development to take part in such an event.