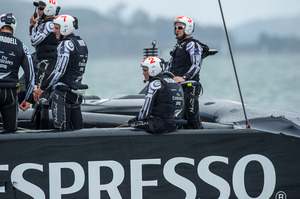 It had a serious undertone, but stand-in skipper Glenn Ashby and his Emirates Team New Zealand team-mates clearly enjoyed the change of routine at the helm of the boat yesterday.
With normal skipper Dean Barker rotated to give back-up Ashby some time at the wheel, and another no-show from Artemis, their scheduled opponent, the team relished the changing of the guard.
It's a convention that the last man off the boat (who is not part of the sailing crew) takes various items not allowed or not wanted on board - and jumps in the water to be picked up by the chase boat.
As Barker, last man off, readied to quit the boat yesterday, the crew chipped at him to do the decent thing and jump in the water - and it is cold in San Francisco Bay - and gave him a mock manhandling when he declined.
"He wasn't having it," grinned Adam Beashel, one of three rotations in the crew yesterday (he replaced Ashby as wing trimmer and Richard Meacham came into the bow).
"He just brought the chase boat in."
A man in the water is one rationale for having a back-up skipper in good trim. If Barker was to be injured or ill, Ashby would take over - as he would if Barker ended up in the water during a race.
Don't laugh - it can happen on these 22m catamarans when crew and skipper scuttle as fast as they can from side to side during manoeuvres.
They have to bounce/run over the catamaran's trampoline and, even though Team NZ sponsors Camper have made the crew shoes with special cleats which offer enhanced grip on the tramp, missteps can still happen.
For example, Oracle skipper James Spithill ended up in the drink after one training run last month.
He started off for one side of the boat, saw there was no one on the wheel on the other side, turned back - but fell over the wheel, breaking it and taking a bit with him as he went overboard.
"It's all about how you deal with something like that," said Beashel, "and how you continue to race at 100 per cent. You have to have people able to compete in different conditions and in different situations."