The greatest America's Cup sailor of the modern era could be on the move from Oracle. Paul Lewis and Dana Johannsen report from San Francisco.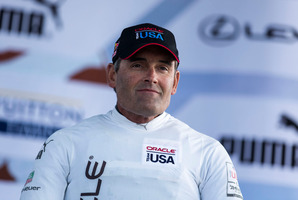 Speculation is rising in America's Cup circles that Oracle Racing CEO Sir Russell Coutts may not be with the syndicate at the next Cup regatta.
Oman, the gulf state with big ambitions in sailing, and Artemis Racing - funded by friend and Swedish billionaire Torben Tornqvist - have been mentioned as possible new projects for him, though Coutts dismissed that talk.
"I have heard one of those rumours myself but, let me tell you, both are bulls***."
He would not comment further on his future.
Coutts, regarded as the finest America's Cup sailor of the modern era, joined Oracle in 2007 after a split with Swiss syndicate Alinghi, for whom he skippered the boat that won the Cup in 2003. He has now won the Cup four times with three different teams - Team NZ (twice), Alinghi and Oracle.
At the time he signed, Oracle was said to be paying him 10 million ($16.4m) a year, although that figure has never been confirmed.
If the talk is true - and there are consistent drum beats that Coutts may leave - nothing will be said, done or confirmed until after this regatta. There is a third possibility: Coutts, now 51, has a young family and may have had enough of the America's Cup circus, especially after a difficult time in this cycle.
Some sources close to Oracle maintain that Coutts may go whether his team win or lose in this regatta. Lose, and his position in the team would naturally be up for review. Billionaire backer and himself an experienced sailor, Larry Ellison has a well known dislike of losing.
But if Oracle were to successfully defend the Cup - and all the available intelligence suggests their race boat will be fast and sailed by an experienced, polished crew, skippered by leading match racer Jimmy Spithill - indications so far are that the America's Cup would return to San Francisco for the next regatta.
Such decisions, however, are always open to change, as is a chief executive's post. Coutts may himself be ready for a new challenge or a break - after all, he has accomplished about everything there is to do in the America's Cup.
But this Cup has not gone smoothly so far. The concept of 72-foot giant catamarans powered by a freakishly fast wingsail, hauling the oldest major sporting event in the world into the 21st century, was bold. But it has not worked out. The racing so far has been poor, if interesting for yachting fans keen to see the giant cats foiling and going so fast.
"This will be a competition for the Facebook generation, not the Flintstones generation," is the quote that keeps getting flung back at Coutts. So was the comparison with Nascar - an analogy Coutts says neither he nor Ellison used.
The event has suffered from a lack of challengers, partly because of the budget (US$100m was needed to be competitive), the economic downturn and the hi-tech, on-the-edge nature of the boats.
Coutts - and Ellison - endorsed the vision of a new dawn for sailing and the Cup; races close to shore exciting fans with the speed and attracting new ones; an event covered so intimately by television that it brought forth all the excitement and drama usually hidden in yacht racing.
It was a bold, wholesale shift of America's Cup philosophy - typical of Coutts, a single-minded, driven competitor and an intelligent man with a wide view and deep love of yachting.
But the America's Cup suffered with the capsizes of the expensive Oracle and Artemis boats - the latter also costing the life of British sailor Andrew Simpson and bringing on safety debates that shrouded the event in politics and squabbling, a turn-off for many fans.
In addition, Ellison was coming under fire for the unsuccessful negotiations with the city of San Francisco to do up some of the fading parts of the city's impressive waterfront; he was criticised when the event began to lose impetus and the "up to 15 challengers" became three, along with fading reports of the benefits to the city, in the gun for $22m of unexpected costs for hosting the event.
That is not a scenario likely to please Ellison.
His plans to ignite interest in sailing - for which he obviously has a sincere love - backfired and it is possible some of the blame for that may be laid at the table of his CEO.
Some of the headlines from weighty media outlets were: 'How Larry Ellison Is Destroying The America's Cup' (Bloomberg); 'How Larry Ellison Sabotaged His Own America's Cup Party' (Business Week); Larry Ellison's Ahab-like Quest For The America's Cup' (Forbes); 'When A Billionaire Sets The Rules, It's An Exclusive Race (New York Times), whose verdict on the regatta was "an event riddled with a range of missteps and calamity". There were many more.
Budget may also be a key concern. Emirates Team NZ boss Grant Dalton alleged that Oracle had spent US$250m in its campaign. Coutts insisted that their expenditure was not much more than Team NZ's. (Dalton has said that was 'somewhere north of' US$100m').
One of Ellison's most famous yachting quotes came in 2007 when Oracle were beaten out of the Louis Vuitton Cup to find the challenger against Alinghi. Asked if it was worth US$100m to win the America's Cup, Ellison said: "I don't know. I have never won the America's Cup. But it certainly isn't worth US$100m to lose the America's Cup."
It may be, if Dalton's estimate is close to the mark, that Ellison may think US$200m-plus is a lot to spend to win the Cup but still get derided, as he was in some quarters, as a selfish billionaire thinking only of his rich man's games.
In a recent book, The Billionaire And The Mechanic - the story of how Ellison, Norbert Bajurin (Golden Gate Yacht Club) and Oracle won the 2010 Cup from Alinghi - it is obvious Ellison and Coutts have a tight relationship; not many people could securely cuss out one of the world's most powerful men when he was sailing the boat with Coutts acting as tactician.
In the book, Ellison admits he held on to previous skipper, New Zealand's Chris Dickson, too long because of a high regard for him and noted that the painful parts of running a business also applied to running a Cup syndicate.
"If you want to win, you have to be willing to make very hard personnel decisions. If you want to be the best, you have to hire the best and you have to be constantly looking to upgrade your people ... But if you own a professional football team, you cannot let someone play quarterback just because he's your friend.
"Now Russell has to make the hard decisions. He decides who can help win the next Cup and who's past his prime.
"It's a tough business."