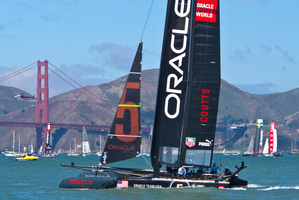 The prevailing sentiment at this America's Cup is one of sadness, really - regret that, after all that money and the creation of a genuinely exciting yacht, the racing and spectacle isn't better.
Oracle CEO Sir Russell Coutts is probably right - the America's Cup match between his team and Emirates Team NZ will be close. There might even be the fireworks that tantalised us before it became clear that the "up to 15" challengers in massive, massively quick 72-foot catamarans that were the sailing equivalent of riding an angry Brahma bull were actually ... three.
The leeway involved in the America's Cup class rule - where you get a box rule to build a boat to, but which also has room for design innovations and development - has hurt the regatta too. Luna Rossa, even though they shared a first-generation design platform with Emirates Team NZ, have clearly not developed their boat as well as ETNZ since they have been on their own from the end of last year and are not sailing well as a crew.
Artemis made the mistake of not designing a foiling boat, got their design wrong anyway and capsized in an infamous fatal accident, itself still enormous cause for sadness. They rebuilt their boat to foil and are now trialling it on the Bay - three weeks late in the regatta; about two years late overall.
They may well line up for the Louis Vuitton semifinals on August 7 (NZT) but, in terms of sailing these 72-foot beasts competitively, it's a bit like pulling in some puzzled old darling from the street, strapping him into the pilot's chair of an Airbus 380 and giving him two weeks to get the hang of it.
So, some predictions:
If they race, Artemis will likely be slow and cautious - and will be well-beaten by Luna Rossa.
Luna Rossa will also be well beaten by ETNZ in the Louis Vuitton final.
The best of 17 final will be exciting and close - sorry, I simply don't know enough to predict a winner but I think Coutts is right again. It will be tight racing, with fevered pre-starts and starts and with some of the passing during the race that we were promised but which has not eventuated yet.
If I have to shuck off a journalist's supposed neutrality, I will admit to hoping that the Cup comes back to New Zealand. Not for the usual nationalistic reasons, though those too.
I can remember being down at the Viaduct the night of the end of the Louis Vuitton in Team NZ's reign in 2000. The place was going off. There was dancing in the streets. Drink was sloshed joyfully around. Complete strangers acted in harmony. It was a singular time - and I for one would like to experience that again as well as a regatta organised in Auckland.
Having said that, there was much to admire about the vision and foresight of billionaire Larry Ellison and Oracle Racing CEO Coutts. Their thinking was ambitious, to say the least, perhaps even damagingly so.
There are plenty who say that Ellison and Coutts ramped up the innovations and the specs of the new yachts to make challengers give up. That's not it. Maybe, as Coutts has already said, they did get carried away with the "grandeur" of the event.
But you can't help but admire such a bold attempt to change the game. Huge catamarans going so fast they would get a ticket on Auckland's Harbour Bridge, racing so close to shore they can be easily watched by fans, with 15 challengers, covered by television in such colour and drama that new fans and sponsors would be brought in, lessening the event's reliance on the deep pockets of billionaires.
Tremendous thinking and rolling of the dice - but it has ultimately proven to be flawed. That old rogue, media mogul Ted Turner, won the Cup in 1977 and said of the game: "The chance of mistakes is about equal to the crew squared."
Those on the shore can make mistakes too. The original challenger of record, Italy's Mascalzone Latino, cried off in 2011, citing costs. British billionaire challenger Sir Keith Mills did too, saying that the 72-foot catamarans "frightened the life out of me".
So whatever happens now, the next America's Cup will be a new era. Take a good look at the 72-foot cats in action. You'll never see them again.
When you visit Oracle Racing's team base in San Francisco, you walk past USA 17 (which won the 2010 Cup after a years-long court battle with Alinghi) proudly displayed .
I say "proudly" but the massive trimaran (90 feet long with a 68m wingsail, compared to the AC72's 40m sail) is just a hulk, really - no mast, no livery, just three hulls exposed to the weather.
It's a sad end for a Cup-winning yacht but one that will come to the AC72s as well. There's no decking them out in bunting and hauling tourists round the Hauraki Gulf - they are far too hard to handle. No one will buy them. They are essentially state of the art pieces of junk.
The new era of the Cup will likely have some common features, no matter who wins this one - smaller boats, fewer team members, smaller budgets.
Maybe it's time for some good, honest Kiwi innovation and practical thinking again; time to move the event away from the reliance on billionaires.
This one, unless the finals rescue it, appears likely to be remembered for the wrong reasons. It calls to mind the old saying attributed to Dr Seuss: "Don't cry because it's over; smile because it happened." Most think that was about relationships - doubtful as Seuss once said of adults: "They are obsolete children and to hell with them ...".
But this event will hopefully raise itself soon so that the old Seuss saying cannot be inverted to read: "Don't smile because it's over; cry because it happened."