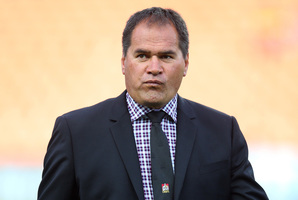 Aaah the serenity. It was a well-worn line delivered by Michael Caton in a mocking movie The Castle which seems to fit Chiefs coach Dave Rennie and his conduct.
Messages have been ticking over on his phone while he's been immersed in meetings and it's ringing again. Nothing will disturb his time on core coaching work and Chiefs business but outside those demands, if he can, Rennie will visit, discuss, help and talk about his favoured sport.
Conversations with Rennie can be informative, challenging and lively as they run through stages of give, take or stalemate, but they are civil.
"It's a massive game isn't it?" he begins. "At the start of the year, you map out where you want to be and how you would like things to pan out so it couldn't be better, could it?
"We are into the semifinal in defence of our title, we have a home semi in front of our families, friends and fans and we have trained with a full squad instead of being away with a reduced squad.
"It is a big challenge because the Crusaders are All Black-laden but we are excited to be where we are and 11 other teams are having a break at the moment."
Indeed they are. The Super 15 is down to the all-Kiwi contest tonight in Hamilton and the Bulls-Brumbies clash tomorrow in Pretoria.
Against predictions the Chiefs won the 2012 title in Rennie's first year in charge and they are hunting further respect and a repeat success.
Along the way their self-belief has snowballed. History shows they can win the title and they understand what it is like to be in the grind and to face those episodes of tension when their instincts have to respond.
They have felt fear, danced with the desperate, looked uncertainty in the eye and come out the other side. Now they must do it against a red-hot Crusaders side who are mounting a surge in form to challenge for the title which has eluded them since 2008.
"You can talk about all sorts of things but until you have done it, a lot of it can be hot air. We have 25 of our guys who have won a championship before, they know how hard it is to win and how you have to front in the big games and that puts us in a good frame of mind.
"We are really excited, it is fun to be involved at this stage of the season."
Rennie and his staff have revisited what they went through at the same stage last season and have seen what was effective for them. They have had a fortnight to prepare for tonight as they worked hard and had some fun.
The knack was to channel all the good thoughts and habits on to Waikato Stadium tonight. They had a bit to make up in the way they last played the Crusaders a few weeks ago.
The Chiefs had to alter their attacking plans this season to use the footwork, speed and ball skills of their other men.
"We have been a mixed bag in that area but it's not like we are playing a Crusaders side with men who have the size of Sonny Bill.
"They are a similar physical group to us."
Next season's planning is already well under way. The Chiefs are well into their contracting and have signed a few and have more to come.
"We are a long way down the track and pretty happy with the makeup of the squad so far.
"In regards to how we play we are constantly tweaking our game and we hope to put a game on the park this time which is a bit different."