Kiwi boat's defeat of Luna Rossa shows team is winning the development race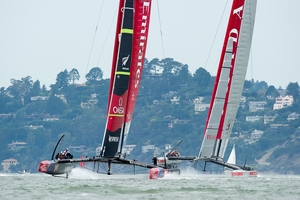 There was a defeated edge to Giles Scott's voice: "It's almost unfortunate that we are the only team that has to race them [Emirates Team New Zealand] in this America's Cup. They are the class act here and all the teams are chasing hard to catch them."
Scott, a grinder with the Luna Rossa team defeated by Team New Zealand by a massive 7min 14sec margin yesterday (the biggest of the Cup so far) found it difficult to find a positive. The win gave the Kiwis victory in the round-robin and qualified them directly for the Louis Vuitton final.
"We are feeling as if we are moving forwards from where we were," says Scott. "Unfortunately, the Kiwis are also moving forwards from where they are. They are going faster and they are sailing very, very well."
The Italians did not blame their scraped rudder, suffered when they launched their boat at dead low tide yesterday. Scott said it wasn't a factor and Team New Zealand skipper Dean Barker probably gave it more credence, suggesting that it might have put the Italians off their rhythm and disturbed their focus yesterday.
The other noises made by the New Zealand spokesmen yesterday were redolent of a team performing well but not wanting to say too much about their good form; they are aware such statements can sound fine when coming from a confident base but can look arrogant in print.
That will be music to the ears of many New Zealand fans, keen to see the America's Cup return to the Waitemata Harbour. But maybe a tiny pinch of salt is required.
The Italians are not sailing very, very well; one way to cover up deficiencies is to praise the oppostion's performance. However, some things are visible to the naked eye.
They have struggled to master the foiling gybe so consistently displayed by Team New Zealand and which will be a big contributing factor to winning the 34th America's Cup. They are not finding the breeze nor picking wind shifts and their tactical approach has been found wanting.
The Kiwis rolled over them at the start yesterday and the Italian yacht seemed sluggish by comparison. Upwind, it was worse. The Kiwis have clearly found something there and they cleared out on the Italians in both upwind legs - the first time by 2m 26s, the second time by 2m 20s.
Also clear is that the development of the New Zealand boat has far outstripped its Italian cousin. Luna Rossa share a design platform with the New Zealanders; their boat is the Mk I version of Emirates Team New Zealand's Mk II. But the two camps have shared only basic design elements. Things like performance data and sharing of speed enhancements are not allowed and the Italians have been essentially on their own since the beginning of the year when it comes to getting more speed out of the boat.
Though Team New Zealand's Mk II boat will have been geared to be quicker than Mk I anyway, it is evident the Italians have not managed to develop as many improvements as the Kiwis; nor is their crew work as polished and instinctive.
There is more to come from Team New Zealand. They have now qualified for the Louis Vuitton final and are waiting until the end of the round-robin to crack on with development work; team leader Grant Dalton has estimated previously that they lost a month in boat development during "Ruddergate", the wrangling over safety recommendations made after the capsize that killed Andrew Simpson in May.
All the sailing in Auckland and San Francisco and the racing here has produced an enormous amount of data and suggested changes to build speed have been assessed and fine-tuned in the hi-tech, computer-driven regime that converts design into development almost instantly these days.
In past campaigns, changes to the boat would have to be painstakingly tested in facilities like wind tunnels, to make sure they worked. That could take weeks and months. But computerised design and testing produces such accurate amendments that they can be applied much faster.
The 22m catamarans are so quick - Team New Zealand have already broken the 80km/h mark in this regatta - that even small changes can ratchet up performance significantly.
The Kiwis now want to apply some more of those changes and there are other factors pending. They have a second wingsail, for instance, which they have not raced with yet and which is said to be faster than the existing "wing".
Consistently asked how fast they have gone beyond the 44-knot record they set the other day, the New Zealanders all grin and fudge it with an obviously prepared party line: "Oh, faster than that."
Standings
1. Emirates Team New Zealand
7 wins 0 losses, 7 points (3 races remaining)
2. Luna Rossa Challenge
3-4, 3 points (3 races remaining)
3. Artemis Racing
6, 0 points (4 races remaining)