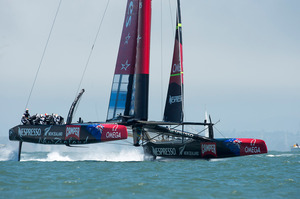 Emirates Team New Zealand have put themselves in premier position to win the Louis Vuitton Trophy in the 34th America's Cup.
Today they qualified for the final after beating their likely opposition in that final - Italian syndicate Luna Rossa - by a massive 7 minutes and 14s; a result that means the Italians again record an official 'Did Not Finish' after completing the race more than five minutes behind their opposition.
But the race posed a puzzling question - were the Kiwis too fast or were the Italians too slow, restricted by a pre-race incident involving their rudders?
Earlier, the Italians scraped a rudder when their boat was being launched at dead low tide yesterday. The hour-and-a-half delicate operation to lift the boats into the water using a giant crane is ticklish enough without rudder damage.
The original plans for this regatta included dredging out the area around the Luna Rossa/Emirates Team NZ bases so there could not be problems with depth.
However, when the regatta was reduced in numbers and expenditure, the dredging went by the boards.
It is not yet known if the Italians suffered bad rudder damage but they were late for the pre-race build-up after taking the rudder off, inspecting and tweaking it and restoring it to the boat.
But what is known is that Luna Rossa was puzzlingly slow during the start - they were in a good position against Team NZ but the Kiwis rolled over them before sprinting away at 30-plus knots while the Italians were comparatively stalled at about 17-18 knots.
They were 21 seconds down at the first mark, just over a minute behind at the second but then lost an inordinate amount of time on the upwind leg - nearly two and a half minutes down to be 3m 29s behind at the third mark. The upwind slowness was repeated at the next leg, with Luna Rossa losing another 2m 20s. Again, the question was: Kiwis fast or Italians slow?
The New Zealand team appeared to be sailing well but didn't show anything special. Their tactics, crew work and breeze-finding were solid though their foiling gybes did not appear quite as slick and fast as other races.
The Italians on the other hand, were sluggish with their gybes and it is not hard to imagine that the incident with the rudders either troubled performance or confidence in today's race.
The match was run in about 18 knots of wind, the New Zealadners putting up a maximum speed in excess of 39 knots - but did not seem to give much away in gaining their seventh point; an unassailable lead in the round robin, meaning they automatically qualify for the Louis Vuitton final.