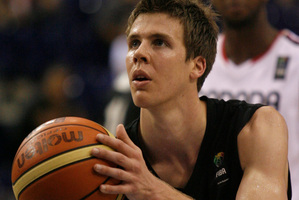 Tom Abercrombie will fly to China tomorrow to join up with the Tall Blacks after an unsuccessful stint with the Phoenix Suns in the NBA Summer League.
The Breakers swingman had hoped to put himself in the shop window during the Las Vegas tournament but struggled for minutes as his Suns side reached the final unbeaten.
Phoenix were defeated by Golden State in today's showpiece, though that result was of little consequence for Abercrombie. After playing 15 minutes in the Suns' first game, the 26-year-old never managed more than four minutes' court time during the subsequent six games, finishing with two points and three rebounds in total.
It was hardly enough of a contribution for Abercrombie to turn heads but his misfortune is far from bad news for the Breakers. With the very real possibility of league MVP Cedric Jackson leaving, after appearing to outgrow the ANBL last season, Abercrombie's departure would have dealt a double blow.
The club have remained firm in their goal of providing their players opportunities to further themselves within the sport, so Breakers brass will genuinely have mixed emotions about Abercrombie's plight.
But his suiting up when the new season begins will be an agreeable sight, given the additional losses of coach Andrej Lemanis (Australian Boomers) and veteran Dillon Boucher (retirement).
And Abercrombie will not be too disheartened by his time on the bench in Vegas. He went into the tournament with eyes wide open and fully aware of the difficulty in breaking into the world's best basketball league, while time is still on his side if he wishes to take his talents offshore.
"Well that chapter is over, summer league was a great experience just wish I would have got more of a chance," Abercrombie tweeted. "Moving on...off to china tmrw!"
That will be music to the ears of Tall Blacks coach Nenad Vucinic, who has been shorn of several key players as he prepares to face Australia next month.
With big guns Kirk Penney and Steven Adams joined on the sidelines by six other frontline players, the Tall Blacks will rely on a squad featuring four debutants.
Abercrombie will add some much-needed savvy to the unseasoned side, which will face the national team twice and play two tournaments during their fortnight in China.
Then comes the two-game showdown with Lemanis' Boomers in the Fiba Oceania Championship, at which Abercrombie will again be a welcome presence.
- APNZ