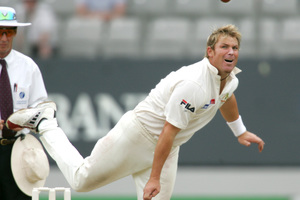 Australian cricket great Shane Warne has slammed New Zealand umpire Tony Hill, as controversy surrounding the decision review system continues to plague the Ashes.
Day four of the second Ashes test was marred by third umpire blunders, though the one-sided nature of England's win ensured the mistakes didn't influence the result.
As Australia crumbled to a heavy defeat overnight (NZT), Ashton Agar was given his marching orders by third umpire Tony Hill despite being given not out by the on-field umpire.
There was nothing on HotSpot to show evidence of a nick and there didn't appear to be any deviation off the bat, with Hill basing his decision on a noise from the stump microphone.
The system is meant to back the decision of the on-field official unless an obvious error has been made, meaning Hill overruling the not out call went against the model DRS was supposed to follow.
Hill's decision riled many fans on social media, among them former Australian leg-spinner Shane Warne, who voiced his displeasure on Twitter.
"Apologies for my language, but that was absolute #bulls*** from the 3rd umpire. Has to be clear evidence to overturn the decision! #rubbish.''
West Indian great Michael Holding was another critic, saying there was nothing wrong with DRS and the officials in charge of administering it were to blame.
"I don't see how that decision has been reversed,'' Holding said. "Where is the evidence to say that conclusively the on-field umpire was wrong?
"I'm sorry, but there's absolutely nothing wrong with the system. It's the people using the system.''