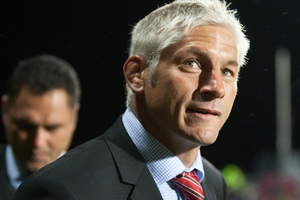 Underperforming All Blacks have been a source of irritation for Crusaders coach Todd Blackadder this season - until now.
Everything has come right on that front in the past few weeks, to the point where Blackadder may be wondering why he was ever so bothered that many of his star men were barely operating at half-throttle in April and May.
All can be forgiven because the sleeping giants have awoken: Sam Whitelock and Luke Romano are suddenly a Kiwi - read more disciplined - version of Victor Matfield and Bakkies Botha in their prime. Owen Franks and Wyatt Crockett look and play like bouncers who have just learned that none of the opposition have their names on the list.
Corey Flynn may well be the form hooker in the country and the grizzled old pro the All Blacks should be relying on, and of course there is Kieran Read - a man who cements himself more firmly as the best No 8 in world rugby every time he plays.
Dan Carter, a little reticent and within himself for much of the earlier rounds, is playing with a smile - a sure sign that physically he's feeling five years younger than he is but mentally, probably five years older. Carter versus Quade Cooper was never a contest and there won't be an Australian anywhere on the planet thinking they have the better man.
Israel Dagg has lost his anchor - he covered an insane amount of ground on Saturday night, his engine back on all cylinders.
Blackadder was right earlier in the year to be a little fed up with the obvious level of entitlement some existing All Blacks were allowed to feel given the signals they had received about their form not mattering too much. But he can park that for now because the Crusaders are in the enviable position of having momentum, confidence, belief and form at precisely the right time.
"We are going to have to win it at someone's else's venue," said Carter. "It will be away from home for us now but we are building some momentum at the right time of the season. After the June test window we've bounced back really well and connected well as a team. In knockout footy anything can happen but we live to fight another week, which is exciting."
Now, the bigger worry for Blackadder is the mental, not physical, capacity of his squad. He knows his side can play, have so much to offer but it will come out in the semifinal only if they retain their hunger, that mental edge to dominate and deliver their best. They have been inconsistent in that respect for much of the campaign - rarely backing up big performances. But he, like his senior players, believes they have turned that particular corner as well.
"We've had our highs and lows this season, and at times we haven't fired," he said, "but the commitment is there and everyone has got their heads in the right place."