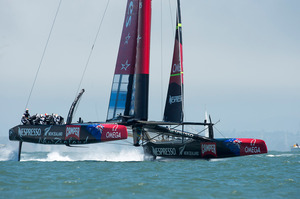 The weather gods seem to be playing their part as Emirates Team New Zealand gear up for their third on-the-water clash against Luna Rossa today.
The wind for today's race is forecast to be between 15-17 knots, with a flood tide of 2.1 knots. That means the permissible wind limit for the race is 22.1 knots but race organisers do not expect the breeze to threaten those limits.
The match will, if Team NZ win as expected, propel them into an unassailable position in the Louis Vuitton round robin regatta - meaning they have automatic access to the finals, a best of 13 series starting on August 17. The foe will be either Luna Rossa or Artemis Racing if the latter is able to compete in the semifinals on August 7 after testing their boat.
Meanwhile, anticipation is building nicely in the event with crowds of 40,000 reported at the two main spectators venues in San Francisco last weekend. The city's marine parade - the Embarcadero - is full of fans, holidaymakers and tourists these days and the buzz is escalating on the waterfront.
Also building is anticipation at the entry of Artemis into the regatta. Their smart new blue boat was launched yesterday but it is still a moot point whether it will be ready for competitive racing in the semifinals.
The regatta's Principal Race Officer, John Craig, said yesterday: "I don't think people realise how many hours, days and people it has taken to get the boat in the water. Now they have to go through a process to assess if they can race. They will be testing, evaluating loads and making sure the boat is safe - and when they are ready to race, they will let us know."
Asked if Artemis faced real difficult in even making the semifinals, let alone the remaining matches in the round robin, Craig said: "It's a hurdle for them, for sure. But this is a time when they have to make sure their structure, their platform and their wingsail are all in the best shape.
"They have been meticulously careful in every move they have made so far and the process they have gone through has been incredible. I was there and I understood about 15 per cent of what they were doing; they were doing things to that boat that I had not seen people do before when testing a boat."
The race is due to start at 7.15am NZT.