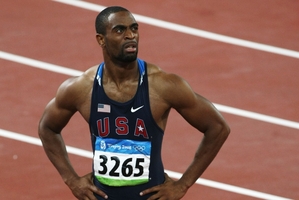 Perhaps the thing that grates most of all about the latest rash of track stars falling to positive drugs test is that so many seem to be living in that great river in Egypt.
Asafa Powell, Tyson Gay and Sherone Simpson have all pleaded innocence or said they didn't knowingly take anything or, in the case of Gay, had a heartfelt, tear-laden jab at an unknown someone in whom he had wrongly placed his trust.
Stop. Spare me. We've heard it all before.
Come in Veronica Campbell-Brown, the 31-year-old Jamaican track star who tested positive a month ahead of the news that the US's Gay and up to five Jamaican track stars did (including Powell and triple Olympic medallist Simpson, whose agent confirmed their identity as he proclaimed their innocence). The others are not yet known but there is no suggestion that they include double triple Olympic champion Usain Bolt, the poster boy of the sport with his bigger-than-life personality and mischievous sense of humour.
But even Bolt, who continues to insist he is clean, inviting drug testers to test him every day, may not be able to save the sport. That's because of what we might call the VCB syndrome - short for Veronica Campbell-Brown.
She is a remarkable athlete - a seven-time Olympic medallist who won 200m gold at the 2004 Athens Olympics and 2008 Beijing Olympics, plus gold at the 2011 world championships. There was only one thing stopping her from true greatness - she couldn't break the world record, held by long suspected (but never proven) drugs cheat Florence Griffith Joyner.
Flo Jo's untimely death led to a flurry of speculation but ended short of being able to prove she died because of drugs (she died in her sleep at 38 through an epileptic seizure). But her 100m and 200m world records still stand, 25 years after they were set. Campbell-Brown's best at the 200m, 21.74s, is 0.4s slower than Flo Jo's world record but, according to sentiments expressed by VCB, it might as well have been four minutes.
"It is beyond my reach," she once said, intimating that a drugs regime had pushed the record to unassailable heights. "It's disappointing to not get the respect that the males do, because they are capable of breaking the record and people are excited to see them run because they know the possibility of breaking the record is close. I don't have that luxury."
Well, she sure doesn't now. It makes it worse, doesn't it, when an athlete takes the high moral ground like that - and is then revealed to be little better. It makes no difference to me that the IAAF have said that Campbell-Brown's alleged offence (a masking agent was detected) was at the mild end of the scale, dropping hints that her punishment may only be a six-month ban and not the usual two years. That has drawn comparisons to a ban given to fellow Jamaican Olympic champion sprinter Shelly-Ann Fraser-Pryce in 2009. She tested positive for oxycodon but her ban was reduced to six months after her explanation that she took the banned painkiller to treat a toothache.
This column has said it repeatedly - ban the drugs cheats for life. There is no other way. It doesn't matter about extenuating circumstances or toothaches. The World Anti Drugs Agency (WADA) has hammered away so hard and consistently over the years that the message could not be clearer - do not take anything that could be questionable; do not trust anyone else; the responsibility is yours.
It's the same with Gay. Okay, we may feel some sympathy for him in what seems genuine remorse and anger that he was let down by someone else - but this is a guy who was put up on a pedestal by the US Anti Drugs Agency (USADA) and promoted as a 'natural' runner; a kind of US athletics' 'Captain Clean'. USADA used him in 'Project Believe', maintaining that Gay was living proof that not all track athletes were on the juice. Gay and a small number of others were blood and urine tested under Project Believe so often that a detailed profile of their chemical balance was built. Gay gave six test samples in a fortnight to establish his baseline profile - meaning any drug-taking would alter that profile significantly.
The latest positive drugs tests at least remove something of a stain from the Jamaican testing regime. For four years leading up to the London Olympics, there were consistent drumbeats that the Jamaicans were not testing properly. Even last year, the head of the London Olympics, Lord Seb Coe, was forced to say he had no reason to believe the Jamaicans were not testing out of competition.
Testing out of competition is the only way to catch the cheats as they can organise their chemical schedules to ensure they are clean on race day. But the results of Campbell-Brown and up to five other Jamaican athletes means the testers are doing their job.
The next big question is what this means for track and field. The Moscow world championships are only weeks away. Gay, with the three fastest times in the world this season, was due to have an eye-catching clash with Bolt. Gay has now pulled out.
With the Jamaicans testing positive, the last bastion of supposedly "clean" competitors seems to have been breached.
At the end of last year, a whole rash of 2004 Olympic medals from throwing events (shot put and hammer throw) were stripped from their drug-using cheats, as was London Olympic shot put champion Nadzeya Ostapchuk, in favour of our own Valerie Adams.
I wrote then that it was to be hoped that track and field did not follow cycling down the Lance Armstrong path of systemic drug use. It will be years before anyone truly believes the Tour de France, is clean, as Britain's Chris Froome is now discovering.
It may already be too late. Here's hoping Bolt stays clean and doesn't become the Armstrong of athletics. Without him, all credibility seems lost.