The rest of the world is struggling to produce quality No 10s, while New Zealand has three of the top 10, writes Gregor Paul.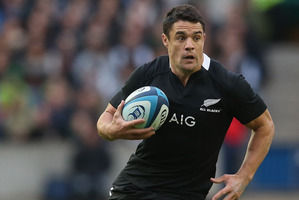 There is currently an unseemly scramble for first-fives - every New Zealand franchise bar the Chiefs a touch fretful about what their stocks in this vital position will look like next year.
It suggests the country is in a bad way in terms of talent production, which it kind of is. But comparatively, New Zealand is the land of plenty when it comes to first-fives.
In Daniel Carter, New Zealand has the only genuine world class No 10 in the game right now. There isn't a player remotely like him anywhere else in the world - not in Australia, South Africa, France or England.
The Irish will claim Johnny Sexton is close. But it would be close, as in Iceland is close to the North Pole; 5000km apart and separated by treacherous ice and partly frozen ocean.
There is a global problem at first-five. The game isn't producing players with the requisite skills.
The All Blacks are probably the only national side with any sense of contentment about the quality of their options.
The domestic picture here is nowhere near as drastic as it is everywhere else.
Carter is the definitive operator, the only man worth the ludicrous price tags that are bandied about for No 10s.
He's the only man who can tick every box and it's indicative of his standing that Racing Metro offered him almost $3 million a season to shift there in 2012 and when he rejected them, they snaffled Sexton at half the price.
Behind Carter, there is Aaron Cruden, possibly the world's second-best first-five and a player who led the Chiefs to the title last year and may do so again in a few weeks. Beauden Barrett is more than handy, a long-term All Black for sure.
Colin Slade was the future as recently as 2011; Lima Sopoaga, Gareth Anscombe, Tom Taylor, Tyler Bleyendaal, Chris Noakes and Baden Kerr have faults, yet they would walk into most Australian provincial sides and virtually any European club of their fancy.
There is a shortage of first-five talent in New Zealand but it is not acute by any means. Arguably, two of the three best in the world are based here, and in Barrett, another of the top 10.
However bad things seem here, they pale in comparison with the rest of the world.
Neither Rhys Priestland nor Dan Biggar have consistently delivered for Wales; Australia can't settle on anyone, largely because Quade Cooper, James O'Connor and Christian Leali'ifano aren't really good enough to run the game at that level.
Johan Goosen and Elton Jantjies bumbled their way through the Rugby Championship last year when they were given game time and will most likely do so again, and the Pumas still have little idea who will do the job for them.
France, in their recent visit, highlighted the dire state of global resource. They picked three different first-fives in three consecutive tests and none of them impressedmuch.
Despite the 3-0 series loss and the obvious lack of input from their respective No 10s, French coach Philippe St Andre declared the tour a relative success, particularly the progress made with their playmakers.
To his mind, France have been hampered by not only the influx of foreign talent into the domestic league but by their historic tendency to see the halfback as their tactical general.
"Every time France lose a game, we sack the fly-half; it is always the fly-half's fault," St Andre said before the recent tour.
"This has been going on for 100 years. In England, New Zealand and many other countries, the fly half is the key man and most often they change the scrum-half. We are French, so we do things in a different way.
"Even when we have players like Parra and Michalak, who played their rugby at fly-half when they were young, the first thing we do when they turn professional is make them into a scrum-half.
"We have to find new fly-half talent - Jules Plisson at Stade Français is one - but we also have to change culturally. We must understand that it is not always the fault of the No 10."
Last year's IRB World Player shortlist included three first-fives - Carter, Owen Farrell and Freddie Michalak.
It was an extraordinarily misleading picture - certainly the latter two had no business on the list and even Carter, who won, would admit 2012 was a good, rather than great season for him.
Or maybe it wasn't a misleading picture-maybe it was indicative of the feeling that it's such a tough job being a No 10 these days that anyone who managed to do a half competent job deserved