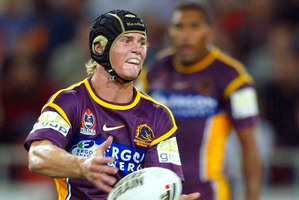 Periodically rugby coaches have convinced themselves that the answer to their first-five troubles lies in rugby league.
They can't find what they want in union, so they cast a jealous eye at the rival code and make the mistake of thinking that the best playmakers in the 13-man game can be converted into world class first-fives.
Swapping codes is a treacherous business for anyone - only Brad Thorn, Sonny Bill Williams and Jason Robinson have been able to impress in both codes. It's an altogether harder business again to come from league and be asked to play first-five in rugby.
With the exception of Berrick Barnes, who was barely established in the NRL at just 18 when he jumped, it hasn't worked yet - Iestyn Harris, Mat Rogers, Craig Gower and Henry Paul were all lured to rugby on huge salaries and touted as saviours,only to be cruelly exposed by the complexities and intricacies of a role that is impossible to learn vicariously.
All of them, sooner in the case of Harris, or later, ended up back in their original code and probably, in time, so too will Benji Marshall. He's an incredible player for sure; his gifts are beyond dispute. There's probably no one in rugby who can match his combination of elusiveness, agility, speed and creativity, and yet none of that matters.
The issue is not about which code is superior; it's not relevant to argue about the skill or conditioning levels or general footballing nous of the athletes. It's difficult to convert because the two codes are nowhere near as compatible asmany believe.
League and rugby share basic components. The core skills of a five-eighth are pretty much the same in both codes: passing, kicking, running, manipulating defences and managing the gameplan.
Yet, in totality, the respective roles are vastly different. The continuity aspect of rugby means the decision-making in rugby is relentless. Rugby demands a long kicking game more than it does a short and with forwards milling around and getting in the way, the options are often harder to pick.
It's not that one game is harder than the other, they are just different and neither can be learned quickly.
Aaron Cruden, a precocious talent at 20 having played the game all his life, is indicative of how long it can take for potential to manifest as recognised contribution.
Can it be feasible to believe that Marshall's innate rugby talent alone will enable him to fast track past Cruden as a first-five? History doesn't provide any evidence to support that theory.
Harris was a magician in league but couldn't get to grips with rugby at all. Rogers was probably one of the better converts but he always looked more comfortable at fullback than at first-five for the Wallabies. Paul was never suited to the territorial game England wanted to play and it took him shifting to second-five before he found himself in rugby.
Marshall, regardless of where he ends up, is probably not going to force a rethink about league converts.
Converts who found code too tough to crack
1. Mat Rogers
Mat Rogers was always keen to play No 10 after he switched from league but was never given a consistent run there either with the Waratahs or Wallabies. Injuries didn't help but because of the inconsistency of selection, he never fully developed or convinced as a test No10. In 2005, he was shifted from the wing to first-five for the November test against England.
"What I like about Mat Rogers at five-eighth is that he is so enthusiastic about playing there and he will give us something a little bit different, as he showed against New Zealand and France," said Wallabies coach Eddie Jones at the time. "You want your No 10 to make decisions and Mat is showing that he can expand his game."
But Jones was fired shortly after and Rogers barely featured in the position againuntil he returned to league in 2007.
2. Craig Gower
Gower was a handy league player until he went a little nuts on the sauce one night and felt it might be best for him to take off to Europe and play rugby instead.
Qualified to play for Italy, he won 14 caps but really, that was only because the Italians were desperate and didn't have anyone else.
Gower played against the All Blacks at the San Siro in Milan in 2009 . . . not that anyone noticed.
He returned to league last year and is now with Newcastle in the NRL.
3. Henry Paul
Another to be rushed into the national team before he was ready, Henry Paul was the riddle rugby couldn't solve. He was tried at 10 but didn't have the kicking repertoire. He shifted to fullback but didn't have the kicking repertoire.
When he ended up at 12, he earned a place in the England team until his sixth and last cap when he was subbed after 26minutes and never seen at that level again.
4. Iestyn Harris
In 2001, Wales heralded the arrival of Iestyn Harris, the undisputed star of rugby league, on a four-year deal worth about $1million a season. With a price tag like that, hewas rushed into the national teamat first-five on limited game time and it was a disaster. Wales were humiliated by Argentina, leading Pumas captain Agustin Pichot to observe:
"Rugby league is not known for its tactical kickers; we decided to put pressure on Harris whenever we could. Itwas very difficult for him. Perhaps somebody from league could go straight into a union team on the wing or at centre but the key positions-8, 9, 10-are very difficult. You must know and learn howtomanage a game."
Harris would eventually move to No 12. He won 25 caps without ever looking comfortable and scurried back to league in 2003.