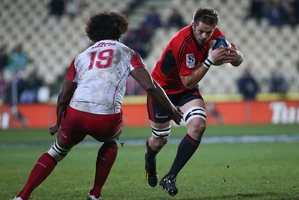 He's back.
We only saw 15 minutes from Richie McCaw in last night's Crusaders victory over the Reds, but he got through them in one piece. And that will be a source of solace for the All Black management, because Sam Cane's form has not been up to scratch at the Chiefs.
Going into the Rugby Championship, we need a No 7 firing on all cylinders. Cane has even been edged out of the starting line up at the Chiefs, where Tanerau Latimer has earned the right to run on.
For his part, Matt Todd has looked a natural fit in the Crusaders' No 7 jersey and was among the best of them last night.
Of course, there are few substantial lessons to be learnt from McCaw's brief run around - although there has been much talk about him improving his speed during his break.
Last night's match was also a huge one for Reds coach Ewen McKenzie - the new Wallabies boss. McKenzie has an impressive record against Kiwi sides in Super Rugby - under him, the Reds had won 15 of their 19 games against New Zealand sides over four years. Until last night; make that 15 from 20 - still, an impressive ratio. His fans had suggested that McKenzie had 'figured out' Kiwi rugby. Unlocked us so to speak. Well, the Crusaders slammed the door on that theory.
The new Wallaby coach would have dearly wanted his boys to beat the Crusaders in his first match against a New Zealand team since his Wallaby appointment. Bad luck, Ewen.
Don't believe any of the talk from across the Ditch that McKenzie hadn't campaigned for the green-and-gold job. The Wallaby coaching hat didn't simply land in his lap - he has wanted this for a long time. But if last night was the best McKenzie's coaching can produce, then Robbie Deans would have been sitting back in his armchair with a cold beer and a cheeky grin.
When the Crusaders machine is firing, there are few sides - at any level - that could deal with their pace, power and precision.
In the 2011 final, the Reds were fortunate enough to catch the Crusaders with no gas left in the tank. The Red and Blacks had played all over the planet after their home stadium was badly damaged in the February earthquake.
This year, they have plenty left in the tank.
Nobody from the Reds' pack in last night's match would make the Crusaders' starting line up. Will Genia and Quade Cooper were outplayed by their opposites last night.
On last night's evidence, Cooper should go away and play touch footy. He was insufficient in every aspect of the game. New Zealand loose trios and inside backs really seem to have him figured out.
The Crusaders' dominance in the pack was easily extended into the halves. This Crusaders machine has more in the tank. Enough to win next week, and enough to win the final.