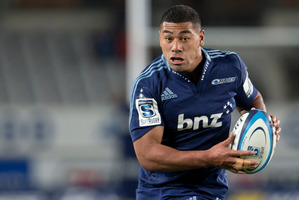 All the buzz is about Benji Marshall but a greater mission for the Blues will be finding a centre to replace Rene Ranger.
After shuffling around the backline for a few campaigns, Ranger rediscovered more of his magic this year as he grabbed the No13 jersey, where his menace disturbed defend-ers and stimulated teammates.
Now he is gone - or will be after creating more havoc in the ITM Cup for Northland.
Contenders to fill the Blues' role are not thick on the ground. Francis Saili and Jackson Willison filled in a few matches at centre and could be used next season.
However, Saili needs to start regularly at second five-eighths and Willison is probably better suited there too. Next idea?
Exciting Blues talent Charles Piutau has all the attributes.
He has been a wing and fullback so far in his young career and has already impressed enough to make the All Black squad and his test debut this season against France.
Piutau is only 21 but has shown a maturity about his game which has impressed a range of coaches at the top level.
Top performances in his two games for the Blues last year showed he should be an automatic selection for some time.
He has not disappointed. Captain-in-waiting Luke Braid, Frank Halai and Piutau were consistently the best for the Blues in a season which started well but battled in the last half.
Piutau's work from fullback impressed. His fitness and work rate was high. He usually broke the first tackle when he countered and was sure on defence.
Like Ranger, Piutau seems to relish the physical confrontations and that sort of attitude along with his other rugby virtues underline him as someone well suited to working at centre.
He will pick up the positional needs very quickly and needs to up his passing technique and judgment about the run/pass/kick choices, but Piutau looks made for the duties. He is as rugged as Ranger but already may have more endurance about his work to cope with a role change.
If Piutau goes to centre the questions will be about cover at fullback. Albert Nikoro, 20, might be a chance when he recovers from his long-term injury, while if Benji signs on for the Blues after coach Sir John Kirwan and CEO Andy Dalton visit him tomorrow, he might be used at fullback. He could be used anywhere except centre in the backline or cover multiple roles from the bench.