With the Lions series rounding out the first wave of international rugby this year, Gregor Paul looks at the advances made towards the World Cup.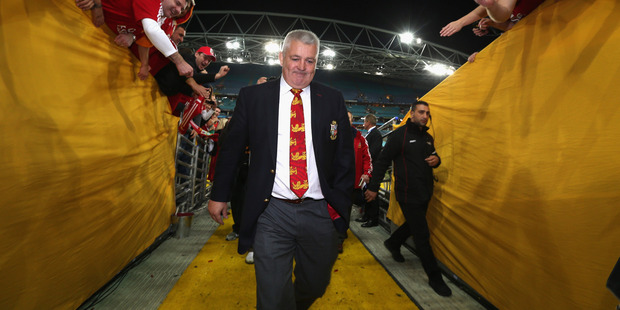 Based on the form shown in the June tests, New Zealand and South Africa are half a length ahead of the other leading international sides. Two years out from the next World Cup, and these two are the most likely winners.
But throw in the recent coaching changes made by some sides and the incalculable effect of returning victorious British Lions to their respective nations and the picture is intriguing. There are plenty of nations who appear to have significant upside and the age-old claim that only four countries, five at a push, are capable of winning the World Cup may have to be revised.
Wales, England and France are without doubt potential champions. Argentina - the real Argentina when they have all their players, as they didn't in June - will have three more Rugby Championships behind them and a squad that will have no obvious weaknesses.
Samoa are a fast improving outside bet (maybe not to win but to make the semifinals), while Ireland and Scotland have made good coaching acquisitions that may see them develop the ability to be one-off giant killers but not eventual champions.
Then of course there is the Wallabies. What to make of them? Right now, they can't scrum for toffee. Their confidence is on the floor and they have little idea of what they are trying to achieve with ball in hand.
In two years, though, this shambolic lot could be world champions. Ewen McKenzie turned the Reds from basket case extraordinaire to Super Rugby champions in two seasons. He can do the same with the Wallabies, who have one serious advantage - they are indecently young and already heavily experienced.
By 2015, Michael Hooper and Liam Gill could be the best and second best No 7s in the world. Will Genia may be capable of walking on water by then. James Horwill will be among the best locks in world rugby - a touch nasty with it and one of the most experienced and authoritative captains in the game. If Israel Folau can be persuaded to stay with the code, he'll be deadly, and there is this nagging worry that McKenzie is going to wind back the clock to those days when Australia were not necessarily better than New Zealand but were smarter, more innovative and unpredictable.
Being at such a low ebb at the mid-point of the World Cup cycle is no bad thing either. The All Blacks were in a similar, if not quite such a drastic state of disrepair, at about this point in the last cycle. Nor can it be forgotten that the Wallabies made the World Cup final in 2003 without being able to scrum.
The Welsh are a more certain threat. They have shed their tag as the nearly men. Their crushing record victory against England earlier this year was a major breakthrough.
Now the bulk of their squad have also learned what it takes, mentally and physically, to beat the Wallabies. That's a massive boost for them; the big mental block for most Northern Hemisphere sides is believing they can beat the big three Southern Hemisphere nations.
There are world class units throughout the Welsh team. Alex Cuthbert, George North and Leigh Halfpenny are a back three as good as any. Jamie Roberts and Jonathan Davies could be the pre-eminent midfield pairing by 2015. And a loose trio of Dan Lydiate, Sam Warburton and Toby Faletau could hold its own anywhere. With Alun Wyn Jones, Adam Jones and Richard Hibbard in their tight five, they can win the ball and Mike Phillips can distribute it. The only unknown, and it is significant, is whether they can find a playmaking No 10 to bring everything together.
Would anyone bet against coach Warren Gatland solving that final problem? Probably not,and his motivation to end his tenure in Wales as a World Cup champion is high.
"I am committed to Wales and the World Cup and I am excited about what we can achieve with the talent we have," he said in the wake of the Lions' series victory.
"We have a chance of doing well in the Six Nations and the World Cup. After that, I'll consider my future."