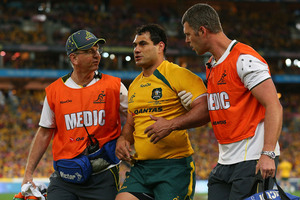 You wonder sometimes just when rugby will face up to concussion properly. We in the media industry get exposed to some terrible BS, sadly on an all too regular basis. We get quite practised at detection; enough for the antennae to twitch vigorously at times.
Twitch vigorously? Some of the noises made about Wallaby flanker George Smith made them bend over like coconut palms in the grip of Hurricane Katrina.
Smith is the man who looked like he was on the Planet Blerk after a sickening head knock in last weekend's final Lions test. He was taken off the field, supported by two other men, before miraculously appearing again five minutes later to take his place on the field.
Later in the week, Brumbies coach Jake White said Smith would be on the bench for the final Super Rugby round against the Force last night. Smith was the only one of the Brumbies' Wallaby contingent on the bench but, said White, not because of his head knock.
Oh, no. Apparently Smith was stood down because White was rewarding Melbourne Rebels-bound flanker Colby Faingaa for recent good performances.
Uh-huh, uh-huh. What's that bull doing here and what's that squishy stuff on my shoe?
"Not only that, but I think we're going to need George going into the big [finals series] games," said White. "We're going to need his experience, I'm going to need him to be 100 per cent. He will get on [the field against the Force]. He's not on the bench because of what happened last Saturday, he's on the bench because it's the best call for our team going forward.
"Our doctor was actually the [test] match doctor as well. He's a very conservative doctor and he would never have been gung ho about a decision like that. I have no doubt that George himself wouldn't have gone back out onto the field if he didn't feel he was 100 per cent right. He's been all fine."
This is a classic example of rugby's dubious relationship with concussion. The problem is that this is an inexact science. Concussion sometimes clears quickly; the reaction and degenerative brain damage may not make its presence felt until later, years later.
Professional sport is only just starting to wake up to this. In the US, there is a monster court case under way, brought by the players against the NFL, the governing body of American football. It promises to involve gargantuan numbers with a sobering suffix: millions. The issue is not that concussion is linked with long-term health problems; the NFL admitted as much in 2010, saying it was part of a highly physical contact sport. The players' lawsuit - supported by 4000 of the 12,000 NFL players - maintains that the NFL deliberately covered up information about the risks of concussion, thus profiting from doing so.
For those of you maybe partly convinced that White has a point, consider the following: Smith himself has said he felt less than wonderful when he came off: "It obviously affected me. You saw me snake dancing off the field. I passed the [concussion] tests that were required within those five minutes and I got out there."
Point two: The Brumbies have form, though they are far from alone. Last year, Brumbies flanker Michael Hooper (ironically Smith's replacement on Saturday night) collapsed on the field after a tackle in a match in Wellington against the Hurricanes. When play halted, he stumbled and fell, lying prone for a couple of seconds before regaining his feet. He wasn't taken off the field. He continued - and turned in a man of the match performance.
I wrote after seeing Hooper's obvious discomfort: "... this is where the game lets itself down. It makes no difference that Hooper recovered and went on to become the most influential player in this match - the fact remains that he should have been taken off." Nothing much has changed in a year ...
So what is the 'test' that Smith passed when no one but a drooling cretin would have considered it beneficial for him to return? It's called the PSCA (for Pitch Side Concussion Assessment). A player is withdrawn instantly (no PSCA needed) if he exhibits 'tonic posturing' (when a player is knocked out, he sometimes raises an arm while prone, almost like signalling a bus); if he has a traumatic convulsion; or if a doctor confirms a loss of consciousness through 'direct observation'.
Players are referred to a doctor for PSCA if there is a suspected loss of consciousness, if they are unsteady on their feet, if they are disorientated or confused, or if they appear dazed, or are exhibiting 'inappropriate behaviour' or other symptoms of concussion. Smith had a PSCA, even though most would invoke the Law Of the Bleedin' Obvious and say that Smith should have been kept off the field.
Players fail a PSCA if they give one incorrect answer in the memory test; if the doctor detects an abnormal sign; or he commits four errors or more in the balance test (maintaining stability for 20 seconds while standing heel-to-toe with the dominant foot forward with hands on hips and eyes closed). Smith obviously passed this test. No blame can be attached to the doctor, or the coach, or the player - but the pressures on each are obvious. It seems the International Rugby Board's concussion laws don't go far enough if they encourage a doubtful cameo like the Smith episode.
Look up these names on the internet - Junior Seau, Dave Duerson, Ray Easterling and Mike Webster. All NFL players and all suspected of having brain damage caused by repeated head knocks. Webster's is probably the worst case. A former Pittsburgh Steeler, the owner of four Super Bowl rings, he developed major mental health issues. He was found urinating into his oven and a spot of self-dentistry saw him fixing rotten teeth with superglue. Concussion can cause sleep issues and Webster was so desperate to sleep he sometimes Tasered himself unconscious. He died of a heart attack; an autopsy found brain disease.
Surely we can lose the BS now. It's time contact sport, all contact sports, paid proper regard to the risks of concussion and stood people down, erring on the side of caution, health and safety.
Don't wait until a player pees into his oven or Tasers himself to sleep before the right steps are taken ...