Canterbury's favourite son had the midas touch in NZ, but the tougher odds across the Ditch in the end proved his undoing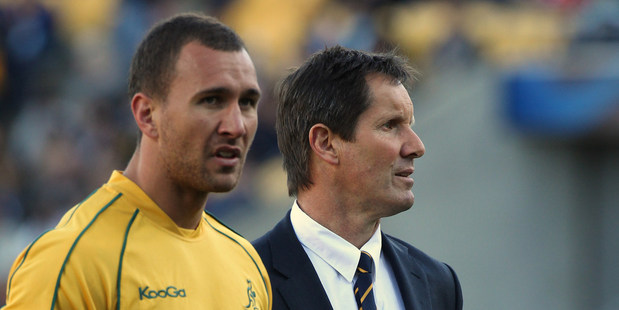 Where did Robbie Deans go wrong?
Once the favourite son of Canterbury rugby with a trailerload of trophies and standing in the game, he was this week axed as Australia's rugby coach, ending six years in the job on a losing note.
The 41-16 loss in the third and deciding test to the Lions did for him, but all the indicators are he was on the way out, win or lose.
Did Deans get it wrong in rugby terms, or was there more to it than mere footballing matters?
Canterbury University professor of sociology Mike Grimshaw reads more into Deans' demise than a simple inability to play winning rugby against the Lions.
"Deans failed to create and deliver a social contract," Grimshaw wrote this week.
"Australia played like a society in urban breakdown. [Lions coach Warren] Gatland created and maintained a social contract - and that is why the Lions won."
Grimshaw described a social contract as a "mutual engagement of management and players, of a fluid interchange of expectations and obligations".
"This past weekend Australia played like a dysfunctional society, the Lions played like a functioning community," Grimshaw wrote.
Remove the wordy cloak and he's right. There were events within the squad, and the playing of the game, which undid Deans, who had been Australia's longest-serving coach.
1. Lack of depth
Put it this way: if Dan Carter, and Aaron Cruden, the All Blacks No 1 and 2 first five-eighths, were both injured, coach Steve Hansen could call on Beauden Barrett and Colin Slade - respectively part of the All Blacks squad and a 10-test player making his way back to his best form.
They may not be Carters, but they're good quality footballers.
Deans didn't have that luxury.
Take the front row. His preferred propping choices were Benn Robinson and Ben Alexander. Robinson has been solid but no overpowering presence; Alexander was so badly shown up in the third Lions test, when he was sin-binned well before halftime, Deans didn't even bother to send him back out when his time was up.
Injuries didn't help Deans' cause, but too many average players wore the green and gold.
Deans' supporters argue vehemently he has brought through a decent dollop of young talent.
Whether that flourishes will be seen in the leadup to the 2015 World Cup under new coach, Queenslander Ewen McKenzie.
2. Failure to weed out the troublemakers
At a press conference in Auckland before Australia played Ireland at the 2011 World Cup, Deans sat in the middle of a long table.
He was flanked by James O'Connor, whom he'd recently suspended over a misdemeanour, Quade Cooper, with whom he was clearly not simpatico, and Kurtley Beale, the other rogue element in the squad.
It brought to mind the line from the old Stealers Wheel hit song: "Clowns to the left of me, jokers to the right, here I am, stuck in the middle with you".
After several minutes of questioning the trio about non-rugby related matters, Deans, vaguely frustrated, almost plaintively asked the large assembled media gathering: "Does anyone want to talk about rugby?"
Deans' failure to pull the three musketeers into line hurt him, and the team.
He finally got shot of the flaky Cooper for the Lions series.
Cooper's description on Twitter last year that the Wallaby environment was "toxic" did for him, as it should have.
Exasperation levels among other players at the lenient treatment of the other two evidently grew this year.
The sight of O'Connor and Beale chomping hamburgers at 4am in the week of the second test in Melbourne, then missing the team bus to training two days before the final test last Saturday were final insults to both their coach and teammates.
Deans didn't have top quality replacements for the pair.
However, that is a flimsy excuse, especially when weighed against the detrimental effect on the rest of the squad. Call it a significant failure in man management.
3. Battle to engage
The Australian sports media live for a decent soundbite. In Deans they found a man who doesn't play that game. Never has.
A couple of years ago John Wright, when he was New Zealand cricket coach, did a press conference in Brisbane.
His mind clearly elsewhere, he stumbled along in circles for 10 minutes, by which time the Australian media had all but left the room.
They want engagement, a snappy sentence and a headline.
Newspapers are one thing; television quite another and for the Australian public, who largely saw Deans through a television screen, he was wooden, and didn't strike a chord.
Deans doesn't do, has never done, cute one liners. That's not him.
His accent probably didn't help either.
4. An unbending philosophy
Australian rugby is in a four-way battle for headlines, media space, and dollars.
Australian Rules, soccer and rugby league are ahead of rugby.
Therefore, there is pressure to produce a style which entertains.
Deans wanted a structure to his rugby, as he had known in his days with the Crusaders.
There are suggestions his players wanted more licence to freewheel - in short throw the ball about, be expressive.
Deans has a reputation as a 'my way or the highway' coach, unwilling to bend in his beliefs.
Take this from All Black captain Richie McCaw in his autobiography: "Robbie doesn't appear to want to be challenged by his assistants and won't allow the kind of full on debate that Ted [Graham Henry] encourages [with his assistants].
"Robbie's approach is to say, 'this is what we're doing' then convince people that that's the way it's got to be."
5. Inability to beat the All Blacks
A biggie. Actually you can enlarge this. Two losses to Scotland in 2009 and 2011 was a substantial jolt.
Being beaten by Samoa 32-23 in World Cup year didn't help.
Deans' Australia were good against South Africa, winning nine of 14 tests.
But it was the All Blacks who were a bridge too far for Deans, once expected to get that coveted coaching job after the All Blacks' 2007 World Cup flop.
Billed as Deans vs Graham Henry, the transtasman rivalry began promisingly with a 34-19 win in Sydney in 2008.
However, Australia won just three out of 18 contests against the All Blacks.
One was the final match before the 2011 World Cup which proved a false dawn once the tournament began.
The bottom line is this failure to knock the All Blacks off their perch was perhaps the single most important point in the fall of Deans.
The world is full of coaches who are unsympathetic personalities, unengaging types.
Deans is far from that, but if you win, tribal issues included, most is forgiven.

Rugby royalty
Robbie Deans
• Born Cheviot, North Canterbury
• Age 53. Married to Penny. Three children.
• Played 149 games for Canterbury and five times for the All Blacks
• Bruce, his brother, was an All Black. Sister Nicky is the widow of former All Black captain and Rugby Union chairman Jock Hobbs.
• Their great-uncle was Bob Deans, the All Black who scored the famous try-that-wasn't against Wales in 1905.