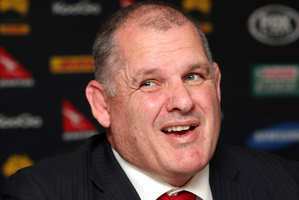 Think Link think Boof. Australians understand that sporting code and its implications.
As the Wallabies installed Ewen "Link" McKenzie to coach the side through to the next World Cup, it was easy to see the parallels with Darren "Boof" Lehman's recent rise to coach the cricket side in the Ashes tour.
Much like Lehman and his cricket side, McKenzie does not have a great deal more rugby talent to uncover.
He will revisit a few projects like Quade Cooper but there are not stacks of front row talent for the 51-test former Wallaby prop to whistle into his squad.
McKenzie edged out South African Jake White after Lehman had surged over the top of another South African, Micky Arthur.
Nationalism is alive and well once more in the Sunburned Land.
McKenzie knew about his promotion on Monday, the Australian public were in the loop early yesterday before the public unveiling five hours later in Brisbane.
After five and a half years and a series loss to the Lions, Robbie Deans did not want to leave but talks with ARU CEO Bill Pulver were only going to be about the terms of a settlement to sort out the last six months of his contract.
McKenzie, the Victorian-born 48-year-old town planner, who was a tighthead prop in the Wallabies' 1991 World Cup triumph, was the new Wallaby coach.
He had assisted Rod Macqueen with the Wallabies from 2000-2003, coached in his home state, then the Brumbies, Waratahs, Stade Francais and the Reds. Now he will return permanently to his home in Sydney, his wife and three daughters.
McKenzie will demand more discipline from his troops than the O'Connor/Beale late-night burger run in Melbourne, the pair missing the bus to training last week and now being out at 5.30am in Kings Cross after the Wallabies' third-test loss.
Senior Wallabies are sick of the pair's antics and Deans' inability to deal quickly with them just as Cooper's toxic comments took until the end of last year to resolve.
Players preferred McKenzie's reactions like his decision to suspend wing Digby Ioane for some behaviour issues this year before the story got out and the police were involved.
The public liked McKenzie too if any of the train carriages carrying Lions and Wallaby fans away from ANZ Stadium and subsequent newspaper polls were a gauge. McKenzie was the man.
No one doubts he will reintroduce Cooper at five-eighths while O'Connor, who is unwanted at the Rebels and may be welcome only at the Force, will have to take his chances further out if he plays by the team rules.
McKenzie picked Beale for the Waratahs when he was 17 and is well aware of his problems and will not tolerate any more indiscretions.
In contrast to the more restrictive hands-on guidance from Deans, McKenzie will give Will Genia and Cooper more control of tactics. He is content to let them buy in more to the tactics because he believes in their partnership.
He endorses his men in public like the way he waited to promote Cooper as his Reds captain to the visiting British and Irish media the day before their game with the Lions. "I want Cooper for what he can do, not for what he can't," was McKenzie's view.
As another senior Queensland rugby man pointed out, Deans overlooked Cooper because of his mistakes but the Wallabies made 19 errors in Melbourne. At least when Cooper made a mistake he was trying to do something brilliant.
Cooper was most effective when he had other playmakers around him and McKenzie was happy to tweak, change up and vary his game plans. He had kept his forward mentality and understood how important team foundations were for players like Cooper to prosper.
There is speculation that former Wallaby playmaker Stephen Larkham, who is working at the Brumbies, will be added to the coaching group as a backline assistant.