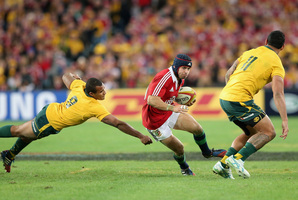 As the Lions' ace marksman, Leigh Halfpenny, headed into the players' tunnel half an hour before the Sydney series decider, injured tour captain Sam Warburton flicked out a hand in a good luck gesture.
Those images are often the window to the soul of sports sides and the Lions brought a triumphal mix of clear thinking and controlled rage to their work in a 41-16 battering of the Wallabies.
Warburton was facing the other way, talking to people in the crowd and others in the squad but his leadership and instincts were a powerful factor in his side's conquest at ANZ Stadium in Sydney.
Tensions clung around the Lions and festered through the media when coach Warren Gatland and his panel cut the emblematic Brian O'Driscoll and reverted to the Welsh way for the tour conclusion.
A historic first series win since 1989 did not seem to lift Gatland to great euphoria after he spoke about his 72 hours of torment and criticism since picking the final test combination.
"I was absolutely shocked by it. It was vitriolic in terms of most of the criticism," he said.
Halfpenny had been a miserable sight too after his extra-time long-range penalty failure to claim the second test and series in Melbourne. Teammates found it hard to console the Welsh fullback.
Warburton was a key to his mate's revival and the team dynamics as he dealt with his own distress of a hamstring tear taking him out of the test. He had to make sure his 24-year-old mate got his head together.
It took the very reserved Halfpenny a few days before he felt ready.
"You have a chance to win it for the Lions and you think this is what all the hard work is for. I was just devastated really to not have been able to do it. It was tough to pick myself back up," he said.
His tour and series statistics were staggering, with just four misses in the three internationals.
In the last Sydney test, Halfpenny set up several tries, kicked five penalties and three conversions for a record 21-point collection in his 49-point series haul.
The Lions had to dig deep as a 19-3 lead was cut in half at the interval and then became just a three-point advantage with 35 minutes left.
"We spoke about being prepared to go to a place that not many players go to in terms of being prepared to push their bodies to the limit," Gatland said of his halftime instructions.
He wondered if the Wallabies could repeat the emotional performance they brought to Melbourne, while he asked for more from his men and got great impact from the bench.
The four-try final flourish vindicated how the Lions wanted to play on this tour.
Gatland delivered special praise for the Lions scrum and labelled loosehead prop Aex Corbisiero as his man of the match.
"I thought round the field he was sensational and justified why we picked him. We said all along he was unlucky in the original tour selection."