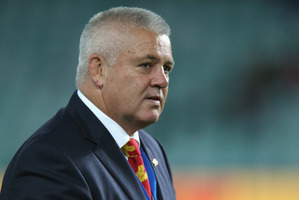 It came down to which New Zealand coach could wring the most from their troubled teams.
Warren Gatland against Robbie Deans, coaches who walked the tough selection planks and grilled their men at training and then had to sit, connected only by walkie-talkie and a halftime pep talk, as those men fought for the 2013 tour prize.
They were the leaders, the men charged with shaping the team style and flavour for the decider in Sydney.
Deans decided to punt on George Smith's vast experience as flanker and took negligible criticism for his choice.
Gatland dropkicked the iconic Brian O'Driscoll from his match 23 and was lambasted by the touring British and Irish media.
Eventually the Lions triumphed 41-16, as they wound up the pain for the Wallabies with a late try-scoring blitz.
How were the coaches?
Both men looked empty, neither had much sparkle. Deans was first to front the media where he and James Horwill dodged and weaved through questions about the Wallabies' ineptness and Deans' future.
Gatland had given his best imitation of a coaching box jig on his dodgy pegs when Jamie Roberts charged through an inside lane for the last of the Lions tries in the series.
But when the Lions coach came to address the touring media, that mood had waned.
He was in no mood to dance with the scribes who had mugged him for ditching O'Driscoll, he had not enjoyed the previous 72 hours and that reaction had soured the first Lions series win in 16 years.
"It was vitriolic almost, in terms of the criticism," Gatland said.
"At the moment there hasn't been a lot of pleasure about feeling vindicated with the amount of criticism that's been placed on me," he said.
Writers were entitled to their opinions, coaches had to make tough calls and the Lions knew there would be strong reaction to the final test selection but others had also been unlucky.
Gatland did not take any pleasure out of the final test win in feeling vindicated.
As a coach he understood the pressures of making tough calls, he had suffered similarly when he dropped Martyn Williams for Sam Warburton with Wales.
That was part of the coaching deal but it left a hollow end to a historic series victory.
Neither coach looked or sounded like a winner.
They all need time out and Gatland hoped he would remember the series more fondly in a few weeks.
Even the winning skipper Alun Wyn-Jones was in a different place.
"At the minute I am outside the moment if that is a possibility," he said.