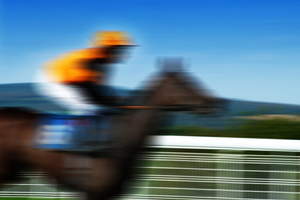 Trainer Greg McFarlane is facing serious penalties including jail after being caught trying to stomach tube a racehorse two hours before it was due to race at Rosehill yesterday.
After initially denying that the horse was Ferocimo, McFarlane later admitted to stewards it was in fact the gelding which was scheduled to race.
In May, northern NSW trainer Cody Morgan became the first licensed person charged after changes to the NSW Crimes Act which state those found guilty of fraudulent conduct or to have inside information that potentially could affect betting outcomes on an event including a horse race, face penalties that could result in up to 10 years' imprisonment.
Racing NSW detective Albert Gardiner went to McFarlane's Rosehill stable at 1.10pm where he found stablehand Carmen Hepburn and the trainer with the horse which had a tube inserted in its nostril.
McFarlane initially told officials the horse was Belegic, who was not racing on Saturday, but later admitted it was Ferocimo who was withdrawn from the sixth race.
- AAP