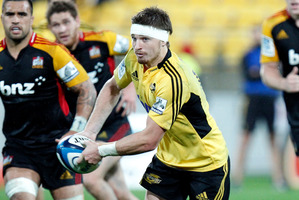 After years of searching and endless rejections, the Blues may have at last found their world-class No 10 - with Beauden Barrett understood to be seriously contemplating a shift to Auckland.
Barrett is thought to be genuinely torn between staying with the Hurricanes or joining the Blues - who have tempted him with the quality of their coaching team. The opportunity to work with John Kirwan, Graham Henry and Mick Byrne is the main attraction. Barrett is one of three first-fives in the All Black squad, rated third in the pecking order behind Dan Carter and Aaron Cruden. He'd like to climb the rankings and will have to determine whether signing with the Blues will enable him to enhance his game more than if he stayed with the Hurricanes.
The decision by the Hurricanes to shift Barrett to fullback midway through their campaign for two games no doubt unsettled him. It was a strange call that did nothing to improve the Hurricanes and probably dented Barrett's confidence and faith in the coaching team.
He's being sold a vision at the Blues - who also made a strong play for him two years ago-where he will be the player around whom the backline is built. He'll be able to form a partnership with Piri Weepu and be asked to steer abackline that includes the raw and instinctive talents of Francis Saili, Frank Halai and Charles Piutau.
With considerable private equity soon to be poured into the Blues, the franchise has potential to restore itself to former glories and the offer is highly tempting to Barrett.
If he does come, it will end a near eight-year search for the Blues, who have been looking for a quality No 10 since Carlos Spencer left in 2005.
Since then, the Blues have tried to sign Carter, Cruden, Jonny Wilkinson, Juan Martin Hernandez, Mike Delany and Barrett.
Carter came close to saying yes in 2009, but ultimately the Blues have only known rejection in their efforts to sign a genuine star player. Chris Noakes, who has been their starting No 10 this year, is a solid if limited player and was viewed as a holding player-a safe pair of hands in the absence of better options.
Baden Kerr has potential to develop but it is probable that Marty McKenzie, the former New Zealand under-20 player, will have to be de-listed to make-way for Barrett or someone else.
The Blues are also hoping to progress talks with NRL star Benji Marshall - who Kirwan says he views as a potential first-five. Presumably, should Barrett sign with the Blues, they would continue to try to lure Marshall as his skill-set could be utilised almost anywhere in the backline.