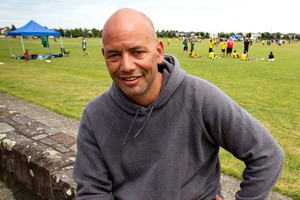 While the focus has been on the appointment of Ivan Cleary as Kiwis assistant coach - which looks like a masterstroke - the machinations of the past week have also seen Tony Iro become one of the most important men in New Zealand rugby league.
As well as being head of the high performance unit at the NZRL - responsible for all levels from the senior side to schoolboys - he now also fills the crucial role of Kiwis manager, starting with November's World Cup.
It's quite a turnaround for Iro. This time last year the 46-year-old was in his third season as Warriors assistant coach, having been in various roles at Mt Smart since 2005. When Brian McClennan was dumped, Iro was passed the reins for the final two games of last season, the classic poisoned chalice. He had ambitions of being a career coach, with reported offers from England, but the clipboard is now back in the cupboard.
"If you had asked me six months ago you would have got a different answer," says Iro of his move upstairs. "But right now I'm very comfortable; it's a new challenge that I am enjoying immensely.
I'm confident I can add something to the role and it is all about what is best for the Kiwis at the World Cup. I would never say never but if I do go back to coaching one day, this experience can only help."
Iro replaced Tony Kemp, who resigned in April amid allegations of sexual harassment. It caused a major upheaval at the time, just one week from the Anzac test and obviously not in ideal circumstances - but may have been a blessing in disguise. Kemp's approach was not always universally popular at the NZRL while insiders report that Iro has taken the role to a "whole new level".
The manager is also the vital conduit between players and the coaching staff. While the players had plenty of respect for Kemp, many, especially past and present Warriors, have a much closer bond with Iro.
Given their previous close relationship, Iro was the main facilitator behind the appointment of Cleary. He says that the Penrith coach didn't take too much convincing but did have a series of questions before he came on board.
"He wanted to know why him and why now," says Iro. "He asked about how Stephen [Kearney] works and how the team runs - the training sessions, the video sessions. I think they are very similar people, not 'ravers', quite methodical."
It is still to be worked out with Kearney but Iro expects Cleary will look after the team's attack, as well as offering his obvious expertise in the areas of goalkicking and fullback play. He expects Cleary to "act like a head coach", someone who will come in with strong ideas; prepared to challenge prevailing views.
"We are a much stronger unit now," asserts Iro, "and his appointment also brings immediate credibility with the players. After all, their main drive is to get better."
Iro heads to Europe next month, to finalise accommodation arrangements, training grounds and other logistical matters. While some teams are based in one city across the tournament, the quirk of the draw means that the Kiwis will have bases in five cities across six weeks. They will spend time in Liverpool, Avignon, London and Manchester, as well as two weeks in Leeds.
On the field, the challenges look massive. New Zealand currently has a ton of players lighting up the NRL (it will be an immense task to squeeze them into a 24-man squad) but this tournament looms as the most competitive in years. Samoa and Papua New Guinea will provide strong opposition in pool play and France at home can't be taken lightly. The Kiwis haven't beaten the Kangaroos since 2010 or beaten England in England since 2006.
"We will need to get almost everything right to give ourselves a chance," says Iro.