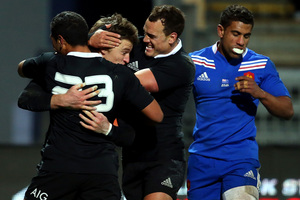 These All Blacks can do anything, it seems, except the one thing they really want - which is to back up big performances with equally big performances.
That's a big goal for captain Richie McCaw and coach Steve Hansen. When they came together to plot the season last year, they both expressed a retrospective annoyance that for all the All Blacks had achieved in their time, it kind of bugged them that they were prone to dropping off after an emphatic win. Fixing that became a priority.
"If you can get to the point where the contest is against yourself, playing better, and you have the talent we have, then that is quite a scary process," said Hansen this time last year. "I think the old chestnut [fluctuating performance] reared its head in June [against Ireland]. We won the first test comfortably [42-10] and the second test, we weren't great [won 22-19]. We were poor. Look at us against France in 2007 - we managed to beat them and then we got into the quarter-final and played poorly. We can't hide from that.
"Somewhere in there, something is happening and subconsciously I think, you are not preparing the way you normally would because you are thinking we have done this already."
The All Blacks have lost only one of their 13 tests since Hansen made those comments and yet, only once in that run has his side truly delivered two back-to-back performances of supreme excellence. Those came on the road last year in the final two Rugby Championship tests where they shredded Argentina and then dug as deep as they ever have to launch a thrilling second half comeback to crush the Springboks in Soweto.
It was the road trip from hell and it brought the best out of the All Blacks. They were shattered by the time they reached Johannesburg, the time difference also cutting down how long they had to prepare. Training was reduced and yet still the players looked close to dying by halftime in the test. Somehow they found the mental strength to tap into the last remaining well of energy. But that was it in terms of consecutive performances of note.
They won their first four Rugby Championship games mostly in third gear with stretches where they pulled into fourth. They followed their win in Africa with a lacklustre draw in Brisbane, then a rout of Scotland before another tailing-off match with the Italians.
This year has started in much the same way; the emphatic 30-0 defeat of France was followed by a six out of 10 effort in New Plymouth.
Maybe the All Blacks are being overly hard on themselves - even when they drop their intensity, make too many mistakes and don't quite find their rhythm, they are still a quality side, as their results prove.
It's a rare position indeed to be able to string together so many victories and only once manage consecutively brilliant performances. How many other sides would really care if they fluctuated from test to test if they were winning 90 per cent of the time?
There's two reasons why this inability to back up bothers the All Blacks. The first is that their core philosophy is continual improvement; they are a side that craves progression.
Incremental improvements need to be seen each time they play. That's what drives them - this notion that they have to keep delivering, that they have to keep lifting their standards.
The second factor that hovers in their thinking - more a vague, fridge buzzing irritation than anything else - is that they know in 2015, the World Cup can only be won if they deliver three consecutive big games. There's no escaping that. They won't successfully defend their title if they are emphatic in the quarter-finals and a bit off their game in their semi.
They have learned that the hard way. In 1995, for a variety of reasons, they didn't deliver the same intensity in the final as when they destroyed England in their semi.
Again in 2003, South Africa were blown away in the quarters but Australia outplayed and out-thought the All Blacks in the semis.
Even when they won in 2011, the All Blacks were a touch fortunate to cling on in the final. They were magnificent a week earlier in dispatching Australia but never rose to the same heights against France.
They rode their luck once, but they know if they do so again in 2015, they are unlikely to get away with it.
They have six Rugby Championship games to improve their ability at backing up, but the end of year tour, where they will play three tests in the same part of the world as the next World Cup, is perhaps the perfect opportunity for the All Blacks to replicate a knockout scenario.