With Deans cashing in his Quade Cooper chips, O'Connor will start at No 10 again on Saturday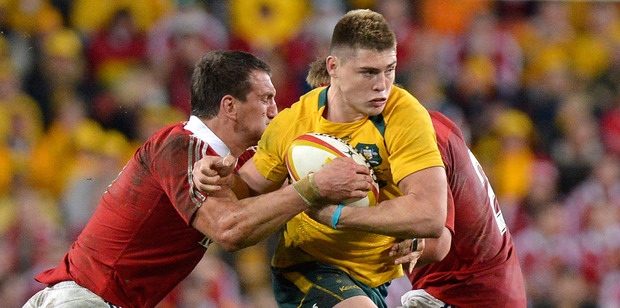 Starter for 10 was a film adaptation of a novel based on the University Challenge series and its famous catchphrase.
It suggested a stress-free beginning but for the Wallabies, it remains a wistful plea for someone to lace up the first five-eighths role as they head towards the test series crossroads with the Lions in Melbourne.
James O'Connor wore the No 10 jersey in Brisbane where he and the team had their challenges. On coach Robbie Deans' watch, O'Connor has to start there again on Saturday.
He has rugby talents many others envy. He carries his confidence with the swagger of a young man who believes his skills can work with great impact in the international arena.
His self-assurance is matched by his on-field ambition, in broken play or in a roving commission that can be damaging. When he gets some room, O'Connor dances some rugby rumba.
Finding that space in test rugby is not quite as easy as Super 15, while there are the other foundation duties a five-eighths must produce.
The last outstanding Wallaby five-eighths was Stephen Larkham, a one-time fullback who glided into the position and the Wallaby hall of fame.
Initially Larkham had a poor tactical kicking game but his pass, attacking instincts and selfless play added to a team vision. His tactical mettle also benefited from a Super rugby partnership at the Brumbies with George Gregan.
All Black whizz Daniel Carter shifted in a position after a test apprenticeship and has done a fair job. The shift made sense.
O'Connor has been roving around the backfield or edges of international rugby since he started. He shifted into pivot for the Rebels this season but it's a late start.
The Genia-Quade Cooper alliance has been going gangbusters for the Reds for some time. It has not transferred to the Wallabies but you have to wonder whether that was because of their conservative policy.
An apparent change in ideas for the Lions series had a Genia-Cooper feel to it but Deans cashed in the Cooper chips. Either he did not trust him or he'd had enough.
So O'Connor got the call-up, a fierce ball of bravado but with a hint of Matt Giteau, another Wallaby backline transplant who did not "take" as a five-eighths.
There is a bit more steel about O'Connor though and as he points out, a successful final Kurtley Beale penalty would have lessened some of the spotlight on many Wallabies.
O'Connor was guilty of missing too many kicks after being pressed into early work when Christian Leali'ifano was injured. A hamstring niggle was not ideal but no defence. "No excuses ... missed some kicks I would have loved to have got and at the end of the day that could have cost us or ... it did," he agreed yesterday.
The Lions brought some ideas they had not shown earlier on tour but they had holes in their defence and the Wallabies, on review, had found some they wanted to exploit this weekend.
Since he was about 10 and began to understand rugby, O'Connor's approach has rarely wavered. He is looking to attack and searching for the defensive mismatches.
"My focus has not changed but you are the main sort of focal point to ignite the backline and bringing it together," he said.
And that's the nub. Can the maverick find a better balance to his work.