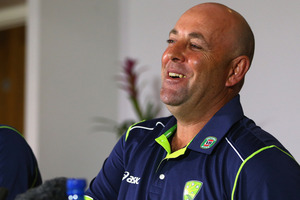 When Mickey Arthur was overseeing the homework gate saga in India early this year, among the tweets put out was this: "What are we doing???? Cricket ????? Adults we are, not schoolboys!".
Step forward Darren Lehmann, deliverer of the tweet and now confirmed as the new Australian coach replacing the dumped Arthur.
That schoolboy nonsense - in which four players were rubbed out of a test in India in March for failing to produce thoughts on how the Australian team could be improved - came home to bite former South African coach Arthur. It should be noted captain Michael Clarke and manager Gavin Dovey were also involved in that decision, which was heavily criticised at the time.
And Cricket Australia chief executive James Sutherland also backed the decision adding that "I'm a firm believer in the fact that those decisions will ultimately stand us in good stead as we build to sustained performance at the highest level".
All of which points to one theory that Arthur has been made a scapegoat. Someone had to go. He was the softest option.
A comment by Clarke during the Indian tour - that he felt increasingly like a coach in the absence of the retired Mike Hussey and Ricky Ponting - cannot have helped Arthur's position either.
Homework gate, coupled with punchy opener David Warner's blow to English player Joe Root in a Birmingham nightclub a fortnight ago, and the fact Australia were playing poorly - remember a lot is forgiven if a team is performing - all combined to fatally undermine Arthur's position. The squad had fallen apart, and with the start of 10 Ashes tests around the corner CA acted.
Regarded as a decent man, the belief was that Arthur had 'lost' the Australian dressing room. Being the first non-Australian in the job may not have helped. Australian players also have a healthy disregard for anyone with that particular (c) after his name.
Failure to be tough enough probably counted against him.
'Boof' Lehmann, 43, can do tough. The former test and limited-overs lefthander, and more recently coach of Queensland, is a popular figure.
He immediately went on the front foot, promising aggressive cricket, calling for input from former Australian greats like Shane Warne, and introduce a "win, win and win" mantra.
Former captain Michael Vaughan was the first to blink among the English ranks.
"For the 1st time in months I'm worried about Australia," he tweeted.
Rather a different tone from bullish Sir Ian Botham, whose been banging on about a 10-0 sweep for England for some time.
Clarke and Lehmann go back almost a decade as team mates.
Lehmann is old school, who played with an old school physique. He likes a smoke and a drink and is known as a straight shooter, who won't be handing out homework assignments. He was positively bullish at his opening press conference.
"There won't be any ongoing problems," he said. "We will get everything right on and off the field. It's important to talk about the game whether it's over a beer or a diet coke, I don't mind being perfectly honest."
For context, and with due regard to the importance of the Ashes to the respective countries, imagine the New Zealand Rugby Union dropping the All Black coach a fortnight before the next World Cup.
One thing to be said about CA's move: it is the least likely thing England would have expected. There's an old rule about doing just that when strategising how to defeat an opponent.
It may be too little too late; or it might be a catalyst for, at the least, a decent contest, starting at Trent Bridge on July 10.
"The timing is far from ideal but we didn't feel we could sit back and hope matters would change without addressing issues critical to a high performing team culture," Sutherland said.
No pressure then, Boof.