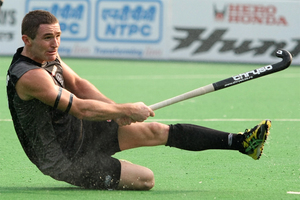 New Zealand conceded three second half goals to lose 4-1 to hosts the Netherlands in their playoff for third and fourth at the World League tournament in Rotterdam.
The world No 3 Dutch dominated territory and possession for much of the match, however the Black Sticks, who had taken an unexpected lead in the 12th minute, had their best period in the last third of the game, creating chances and troubling the Dutch defence.
The outcome means New Zealand, who drew their pool game with the Dutch 3-3 earlier in the tournament, have missed a chance to qualify for the World Cup next June in The Hague - the same outcome suffered by the women's Black Sticks a day earlier.
They too now play the Oceania qualifying tournament in Taranaki in October, where victory will get them to the cup.
Veteran attacker Phil Burrows put New Zealand ahead after a fine pass from midfielder Arun Panchia gave him space and time to pick his spot. He drilled his shot inside the near post past goalkeeper Pirmin Blaak.
However the lead lasted only five minutes before Jeroen Hertzberger scored from close range after strong leadup work from Rogier Hoffman.
Hertzberger added his second, and 11th for the tournament with a low strike past outstanding New Zealand keeper Hamish McGregor from the first Dutch penalty corner four minutes after the interval.
Valentin Verga increased the Dutch lead with a reverse stick shot from the left, which took a slight deflection past McGregor and Jelle Galema ended the scoring after Seve van Ass set him up with a driving run into the circle from the right.
However New Zealand ended the match well, Shay Neal, Stephen Jenness and Panchia all having chances.
Fourth place gets New Zealand to the World League final in Delhi early next year. It mirrors with women's result, which puts them in their final in Argentina in December.
Earlier, Ireland came from 4-0 down to beat France 6-4 for seventh place; Spain took fifth after drawing 2-2 with India, then winning the penalty shootout.
World No 2 Australia were playing surprise finalists the ninth-ranked Belgium in the final later in the day.