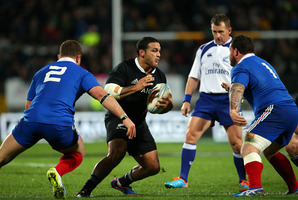 The All Blacks know the when, but they don't know where they will be facing France when they meet next and they have even less idea about what sort of side they will encounter.
They are scheduled to play on November 9, a game originally destined for Paris, but after a falling out between the French Federation and stadium officials at Stade de France, the venue could shift - with Nantes and Lille touted as options.
It is of course an impossibly difficult proposition predicting what the All Blacks will encounter when they get to France - but they should at least be prepared to meet a side that are more than capable of becoming a genuine World Cup contender.
A 0-3 series defeat may not indicate greatness being anywhere close, yet some facts about the French can't be ignored.
Their players endure the world's most brutal club season. The campaign is 10 months long with not only 26 top-14 games but also Heineken Cup fixtures.
The rugby, to put it mildly, is also physically orientated.
They didn't offer fatigue as an excuse, but common sense says it was there - in their legs, in their hearts and in their heads.
The French showed an ability to tactically adapt through the series. They found space out wide in Auckland and New Plymouth and delivered an accurate and effective kicking game in the latter. Their scrum found itself by the third outing and all they were really missing was that critical intensive edge that couldn't be found at the end of a long, hard season.
But by November they will be fresh. They will have more zip, more speed and most likely more belief. By then they could be a dangerously tight, compact side that take plenty of lessons from the past three weeks.
French coach Philippe Saint Andre lamented that in each of the three encounters his side had one debilitating flaw. "In the first test we played well but for the scrum. In the second test it was the lineout and in the third it was discipline - so in each there was something.
"We learned that when you switch off against the best side in the world, you concede a lot of points. This is something we will have to improve before we play them again.
"But we are happy that we played against the All Blacks and showed a lot of spirit, we made seven new caps and we tried three different fly-halves which is important because we need to find new talent in that position."