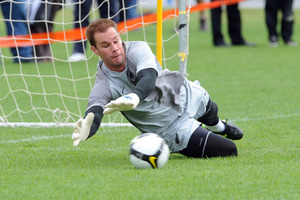 He was one of the heroes of the last Word Cup campaign and All Whites coach Ricki Herbert is hoping he might be able to lure him out of retirement ahead of November's high-stakes World Cup playoff.
Goalkeeper Mark Paston retired from professional football at the end of the last A-League season but indicated there was a small chance he might be persuaded to continue with the All Whites. It looks increasingly likely Herbert will ask the 36-year-old to be involved in November's intercontinental playoff with the fourth-best team from North and Central America for a place at next year's World Cup in Brazil.
He excelled last time around when he famously saved a penalty against Bahrain to help the All Whites qualify for the World Cup and was then brilliant in the three draws in South Africa.
New Zealand is building good depth at goalkeeper, with a number of promising youngsters emerging on the scene, but Herbert's not sure they will be ready if No 1 Glen Moss is injured.
Jake Gleeson and Michael O'Keefe both played at last year's Oceania Nations Cup in the Solomon Islands with Moss injured and Paston concussed and both also went to the London Olympics where O'Keefe was preferred, but neither were convincing.
Jacob Spoonley and Scott Basalaj are also in the mix - they both played for New Zealand A against Jordan this month - but playing a World Cup playoff would be a massive stepup.
Herbert will keep a close eye this week on under-20 goalkeeper Max Crocombe, who is held in high regard and who has played first-team football with League Two outfit Oxford United.
The 19-year-old was born in this country before moving to the UK as a youngster and has committed his international future to New Zealand. He will be a key figure for the Junior All Whites at the Under-20 World Cup in Turkey which kicked off on Saturday (NZT) and could be called up for one of the All Whites' international matches leading up to November.
But Paston is a safe pair of hands, so to speak.
"I have the responsibility to have the best players to do the best job in November and if that is a phone call to Mark and getting him involved then, absolutely, I wouldn't hold back," Herbert said. "I don't think we would be doing it right if we didn't.
"The timing of the under-20s [World Cup] is good because it's a good tournament and it will be good to see how Max goes. He could well come into the equation if things went well for him there.
"I spoke to Mark just prior to him announcing his retirement and I think there is a potential option there. Mark being Mark, he will want to be training and playing because he will want to be fit. I don't think we are too far away from saying to him, 'let's see if we can work through this'."
Paston, who is now working fulltime in IT and has three young children, hasn't played a game since finishing with the Wellington Phoenix in March but has kept himself fit. He wasn't ready, however, commit to the final stages of the All Whites' World Cup campaign.
"I haven't made a decision yet," he said. "I will probably to that in the next month or so.
"When I finished with the Phoenix I needed to take some time off and step away from the game. I still haven't decided if I will hang up the gloves completely."
- APNZ