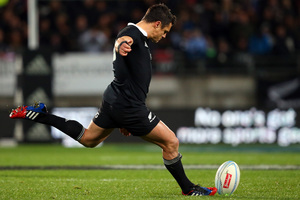 New Zealand 24
France 9
Contentment rather than elation flooded the All Black camp last night. Their ability to emerge triumphant against what they felt was the best French performance of the series was being cherished.
That was the point All Black coach Steve Hansen was at pains to stress - France had come to play, had kicked superbly and competed everywhere they needed to.
Ideally the All Blacks would have finished on a high by delivering an emphatic, dominating performance that left no doubt about their world ranking. That wasn't possible given the efforts of the French, but just because the game never flowed or the All Blacks never cut loose, wasn't necessarily enough to convince Hansen he and his players shouldn't be proud of what they managed.
"We probably didn't get them [improvements on Christchurch] in the way we would have liked to get them with a big flash scoreboard saying that we have won the game and we have won it easily," he said.
"What we got was a genuine contest and it was a battle of wills and we saw ourselves get through that. The pleasing part of our game was the last 20 minutes where we started to come forward and dominate with our defence and get some territory.
"The poorest part of our game was ball maintenance and we will have to improve that."
There was also an element of the All Blacks being hampered by the personnel changes they made. Despite Daniel Carter's unquestionable skill, he was coming cold into a new game plan and didn't quite pull the strings as he has in the past. He'll have to wait until mid-August before he can give it another crack.
Overall, in sweeping the series 3-0, Hansen said he was relatively happy with where his side sit: they blooded five new caps, started to get used to their new attacking plans and showed periods of composure and maturity throughout all three tests.