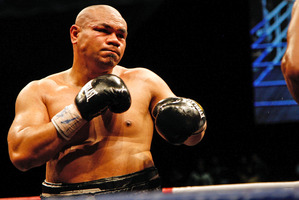 David Tua's do-or-die comeback bout will be in Hamilton on August 31 against a giant Russian - one of the most highly rated heavyweight boxers in the world, a war hero and a huge man of 2.03m and about 136kg, Alexander Ustinov.
"Do" - and Tua will immediately take a positive step towards a title fight with Wladimir or Vitali Klitschko, the Ukrainian brothers who have dominated heavyweight boxing for the past decade but who are running out of credible challengers.
Promoter Duco says the 36-year-old Ustinov, who has lost just once in 28 pro bouts, comes from the K2 boxing stable - a company owned by the Klitschkos.
"Die" - and the 40-year-old Tua will almost certainly slip into permanent retirement.
Duco is billing it as the second-biggest purse in New Zealand boxing history, after the Tua-Shane Cameron fight. Boss David Higgins says: "The Klitschkos will be watching this fight closely.
"If David knocks out Ustinov, he will be a sitter for a title fight, in my view - and that is what it is all about for David. It's not about the money.
"His whole career is on the line here. If he doesn't win, it will be career ending - and both these guys have knock-out power."
The fight is being billed as "David and Goliath", sponsored by Hydr8 Zero. Higgins says Tua won his admiration for not only fronting up to his shortcomings in recent years but also for his courage in agreeing to fight the fearsome Ustinov.
The 1.78m Tua does not have a stellar record against truly big heavyweights and perhaps the easiest way to describe Ustinov's size is to recall the 1985 movie Rocky IV, where little (by comparison) Rocky Balboa is pitched against Russian heavyweight Ivan Drago who stands 2.03m and weighs about 120kg.
Drago was a decorated war hero, like Ustinov in real life. Ustinov took part in four combat operations during the Russian campaign against Chechnya in the 90s and was presented two national awards: the "For Services to the Fatherland" medal and the Order of Courage.
"I have to say that I have been very impressed with David Tua all through this," says Higgins.
"He has been training secretly with the best trainer in New Zealand, Lee Parore, for months and we are very happy with how things are going. I'd say David will be the fittest for this fight since he was a teenager.
"We said at the beginning that there was no point putting him up against a bum, someone who had a bit of a name, and dress it up as something bigger than it actually was.
"That's why a fighter like Francois Botha [who recently lost to new heavyweight hope Joseph Parker] wouldn't have been good for David. It would have signalled that he was at the end of his career and was doing it only for the money.
"Instead, we sat down with David and asked him what had gone wrong before. He was honest and straightforward. He said he hadn't been fit enough."
Tua still wants to be heavyweight champion of the world. "We asked him why he was doing it - if it was for the money or a title shot - and he said: 'Because the dream is alive'.
"We said we weren't going to do it unless it was serious and unless we could find the best fighter in the world's top 10 and that it would be one of the hardest fights of his career. He agreed straight away.
"You also have to salute David Tua's courage because I took him some paperwork and other material which showed Ustinov's record (28 fights, one loss; ranked 7th in the world by the IBF; 10th by the WBA) and which made it clear just how big he was. He didn't blink."
The fight will be held at the Claudelands Arena.
The Tua v Cameron clash was held at Mystery Creek, boasted a $500,000 purse for each fighter and broke Sky records for pay-per-view TV uptake. Sky will screen the Ustinov bout on PPV TV.
Higgins said he was deadly serious about staging a Tua-Klitschko world title fight in New Zealand.
"If David wins, the first thing I will be doing is going round New Zealand cities and seeing which are interested in putting up a site fee to host the fight.
"That's how you get the Klitschkos here. You give them the site fee instead of the gate they normally get, they get the international TV fees and you run the fight based on the gate and the New Zealand TV."