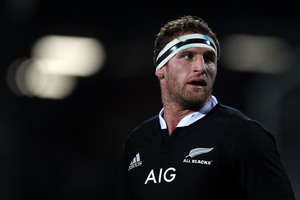 Kieran Read probably shouldn't have played the last half-hour against France.
The pain in his lower back from the blow he received in the final minutes of the first half at AMI Stadium was affecting him badly.
His left hand constantly went to the area during breaks in play and at one stage he passed the ball to Aaron Cruden when normally he would have stormed straight into the wall of blue jerseys.
It is understood that coach Steve Hansen told his management staff at halftime that his skipper would play only 10 minutes of the second half.
Victor Vito duly warmed up on the sidelines after the break, only to eventually replace Liam Messam, rather than Read.
It would take more than what was probably a knee to the back to remove Read in his 50th test.
"I thought he was outstanding, he's been leading the side tremendously well for a new captain," Hansen said.
"He's totally assured of how he wants to do that. He's communicating well with us as a management group and with his leadership team and the young guys.
"There's a feeling of contentment, I guess, from everybody, the way he's doing his job there. And playing wise, he's just doing what he always does.
"He sets the standards really high [and] gutsed his way through a hit in the back from one of those mauls just before halftime.
"His big carry there out of defence is typical of what we expect from our leaders."
Read's run from near his own line after Freddie Michalak's penalty attempt hit a post a quarter of the way through the match was vintage stuff.
Propping off his right foot, he beat would-be defenders with pace and strength until he was eventually brought down near halfway.
His presence was crucial after the break when the French threw everything at the All Blacks. Constant attacks were repelled until Michalak saw his desperate dropped goal attempt charged down by Sam Cane and Ben Smith was quickly over at the other end with a little help from Julian Savea.
"It was a great standard for us to set," Read said of the defensiveeffort.
"I think defence really shows the character of a side and the willingness to put your body on the line for each other. We really stuck at it."
Read said of his milestone match: "For me it's about the team ... I think it's important for this group to do what we did and it was great to be a part of it.
"We'll just keep looking to improve, but I'm really happy with how we stuck at it, our attitude and the way we put things together."
- APNZ