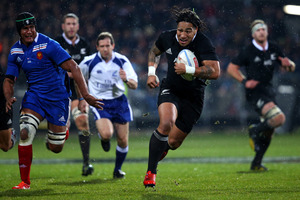 Be honest, how often would you associate deft touches with Ma'a Nonu's rugby gamut?
The wide pass, yes, the pounding sidestep, sure, and the blasting power or iron fend. Finesse would come with a pop pass or perhaps a tip on.
Every now and then there would be a punt of variable quality. That was then. One of the duties of the All Black skills coach Mick Byrne involves raising the kicking standards throughout the team. The former AFL ruckman has a staggering personal skillset and spends hours overhauling and rebuilding players' techniques.
So on Saturday when Nonu nailed a deft left-foot grubber for Julian Savea to latch on to and score, plenty of the credit needed to be deflected to Byrne. Nonu had to deliver, of course, and he did that to perfection after plenty of labour under Byrne's guidance. Four minutes into the test and Nonu's nerve and skill held up.
The All Blacks were under way and that advantage was gold in testing conditions. Throughout this test in Christchurch, punting from Aaron Cruden, Aaron Smith and Israel Dagg was fruitfully creative.
Set piece was another area of stress with some rain, a slippery surface and two keyed-up sides, creating all sorts of tension in the lineouts and scrums. France claimed the solitary tighthead but were rolled in the lineouts.
The All Blacks pinched six French throws with a golden spell of burglary in the first half, while conceding just one of their own deliveries.
In tight tests where so much is on the line, every little advantage helps. It is like golf where the ability to read greens and putt consistently is often the only difference between groups of quality ball strikers.
Fortune can come into it but hours spent polishing a piece of skill delivers those extra bits of class which separate teams of similar ability.