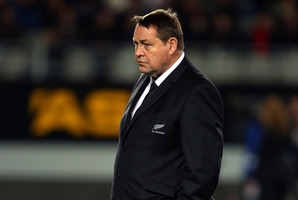 All Black coach Steve Hansen refuses to enter the debate over claims by former Australia coach Bob Dwyer that New Zealand-coached teams cheat.
"I'm not really interested in what Bob Dwyer's got to say," Hansen said yesterday when told of Dwyer's comment that the Lions would sooner cheat the best than play the best rugby, and it was no surprise given their coach is a New Zealander.
Dwyer told the Australian newspaper the Lions were cheating at the scrum, the breakdown and in loose play.
The comments are certain to ignite tensions between the Warren Gatland-coached Lions and the Wallabies ahead of their three-match series starting with the first test in Brisbane on June 22.
"We have a great game and there is massive scope for playing attractive rugby," Dwyer said in comments before the Lions beat the Waratahs 47-17.
"It's not supposed to be a contest to see who can cheat the best. It's who can play the best.
"One comment I'd like to make after having seen the Lions in action on tour is that it doesn't come as any surprise they're coached by a New Zealander because they play outside the laws of the game as every New Zealand side does."
Dwyer, 72, has long accused New Zealand teams of cheating, and in recent years has criticised captain Richie McCaw and the All Black forwards for using negative tactics and duping a succession of referees.
But on Saturday he failed to mention the Wallabies are also coached by a New Zealander, Robbie Deans, who was a long-term coach of McCaw at the Canterbury Crusaders before he took the Australia job in 2008.
Dwyer added that the Lions forwards were illegally pushing upwards in the scrum to dislodge the opposing teams' hookers and win penalties and their props were binding illegally and putting their hand on the ground for extra stability.
"When they put the delayed shove on, they scrummage upwards so there is nowhere for the opposing hooker to go but up," he said.
"The thinking seems to be that if you can get a penalty so easily, why not do it?"
Lions players were also infringing at the breakdown, by going to ground to hold up the ball, while impeding opposing players arriving at the tackle area.