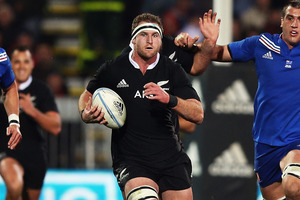 Richie McCaw said an interesting thing about Kieran Read this week.
The regular All Black captain's sabbatical means he hasn't been around the Crusaders much this season but once back from his travels, it didn't take long for some good things about Read to filter back to him.
"From what I've heard, compared with where he's been at in previous years, the growth has been huge and I'm sure that will have helped coming into the All Blacks," McCaw said of temporary skipper Read on the eve of a special milestone for the 27-year-old.
"He's played 50 tests. They sneak up pretty quick. It didn't seem that long ago that he was the new boy in the team.
"I've been really impressed with what he's been doing."
Read played his 50th test last night in Christchurch, the 42nd All Black to reach the half-century (McCaw is the most capped All Black with 116).
McCaw's comments are significant because Read, who made his debut in 2008, has been pretty damn good in recent years for the Crusaders and All Blacks.
His growth is likely to have come in the way he is stepping up to the expectations of leadership. For Read, likely to be the next permanent All Blacks captain and who was in the vanguard of a dominant performance by the All Blacks last night, that bodes extremely well.
The standout moment for him was a stunning 40m run through the heart of the French defence after Freddie Michalak's penalty attempt bounced off a post a quarter of the way through the match.
Read received the pass, stepped off his right foot and away he went on a damaging run up the middle. He spoke this week of wanting his ball carriers to stay on their feet for longer in order to help his forwards at the breakdown and here was a perfect example.
There was a fair bit of grit and determination to go with the flashy stuff too, though.
A back injury in the final minutes of the first half threatened to curtail his evening. He was constantly holding his left lower side during breaks in play but led the team out for the second half. How important is he to this team? Victor Vito looked a likely substitute but he came on for Liam Messam in a tactical move instead.
Read's input was crucial in the period after halftime in which France threw everything at the All Blacks. The visitors would have known that, at 10-0 down, they had to strike first or have little hope of winning. Instead, it was Ben Smith scoring under the posts courtesy of a breakout from Julian Savea.
As Smith jogged back into position, Read was still congratulating his teammates. He knew how important that moment was, too.
McCaw joked this week about Read taking his place on the team bus. It could be one of the reasons why he is so keen to get his boots back on.
- APNZ