All Black coaches point to inconsistencies at Highlanders and Crusaders for players' poor Super Rugby form.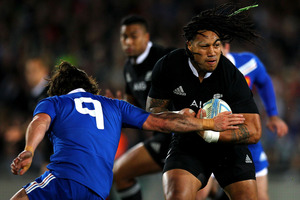 The instant form reversals of Ma'a Nonu and Aaron Smith came as no surprise to an All Black coaching panel that has been part-confused, part-frustrated by the tactical vision at the Highlanders.
There are similar feelings in regard to the Crusaders because the improved attacking game they promised hasn't materialised.
It's not that the All Black selectors are in despair but they are increasingly conscious that the tactical approach would be different if they had charge of the Highlanders and Crusaders.
Between February and late May, a picture emerged; it showed the likes of Nonu, Smith, Andrew Hore, Tony Woodcock and Israel Dagg failing to take personal responsibility for their performances.
It appeared as if they couldn't coax anything out of themselves - that a mixture of confidence, motivation and conditioning were all missing to various degrees.
The picture the All Black selectors had was different. They saw two sides that varied their selections and game plan from week to week.
They weren't sure how the Crusaders or Highlanders were trying to play.
At the Highlanders, they saw a team that made an enormous number of ball carries - they lie third overall in the competition - and were supreme at beating defenders (they are the number one ranked side in that department).
But they have scored only 28 tries, which ranks them 11th overall. The Highlanders have played too much rugby in the wrong areas of the field and because of that, the All Blacks always fancied that Nonu and Smith were a quick fix.
"We have always said when you pick this team, yes, you have to look at Super 15, but history in the black jersey counts, too," said Hansen after the first test victory in which Nonu and Smith shone.
"Some people have that mental ability to step up. It is a different environment, different culture, and maybe it is just easier for them to play here. I don't know what is happening with the Highlanders. It is not my concern."
The statistics are just as illuminating in regard to the issues the Crusaders face with their attacking game. Their 32 tries this season places them eighth overall; they rank ninth for clean breaks and 12th for defenders beaten. This strengthens the perception they are shifting the ball from touchline to touchline on lateral running lines. It hasn't been obvious how the Crusaders wanted to use their back three and, in particular, how they were going to ignite Dagg.
There was no appetite among the All Black selectors to be judging Dagg unfavourably when there was a lack of conviction about the Crusaders' game plan. The All Black coaches had a level of faith that they could get more out of the mercurial fullback, as their game plan had a better feel for his strengths and weaknesses and how to best use his obvious running ability.
"I didn't want to say that because that could sound like an excuse," was Dagg's answer when he was asked before the Eden Park test whether he felt the All Blacks had an attacking game that better suited him than the Crusaders'. "But I am excited by the game plan the All Blacks have."
Persistent issues at scrum time in the first test restricted the All Blacks to just two occasions where they attacked from set piece, limiting the involvement of Dagg as a strike runner.
It may transpire that Dagg has lost some edge or is lacking in confidence that the All Blacks can't easily fix. But they won't make that call until they have given him a fair crack working in their systems.
The bigger question in all this, however, is what happens after the June tests?
Nonu spent three months as a ghost at the Highlanders - inaccurate, clumsy, loose and seemingly all over the place. He then looked a world class talent after just 40 minutes of a test.
Smith, error-prone and erratic at the Highlanders this year, was tight, snappy and direct with a black jersey on. Will they fall off the cliff again when they return to Super Rugby?
The All Blacks would like to think that some of what they are doing could be put into action at the Highlanders and Crusaders.
There seems obvious sense in the Highlanders using Nonu to run straight and hard and pairing him in the midfield with Ben Smith - using Nonu to break the line and Smith to run off him and act as key distributor to the outsides.
That combination would take the pressure off Aaron Smith, who could be asked to simply whip the ball away and not take too much of the playmaking on himself.
Maybe the Crusaders need to think about shifting Robbie Fruean to second five-eighth and using Tom Taylor much like Ben Smith - as a distributor with the aim of bringing Dagg into play better from fullback.