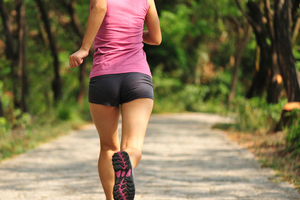 It's peak trail-running season across New Zealand, and about 200 competitors are expected for the inaugural Double Rainbow Trail Run today in Rotorua, organised by Lactic Turkey Events in Rotorua.
Meanwhile in Auckland, Total Sports' popular Blackmores Xterra Trail Run/Walk series is in full flight, and attracts thousands of runners to each event.
There are plenty of opportunities for athletes of all abilities to hit the trails across New Zealand.
Lactic Turkey event director Shaun Collins said athletes today would be "wowed" by the Double Rainbow race, in much the same way as the YouTube sensation - "Woah, Double Rainbow, what does it mean?"
Collins has offered some advice for people new to trail running: "The best advice I offer new trail runners is split in three: pace the machine, keep feeding the machine, and enjoy."
• Pace yourself - newcomers shouldn't get trapped taking off too fast in the start-line craziness.
Start steady, or even slow, and you'll find you will last the distance more and even enjoy the last section.
• Feed and water the machine - this should start right from the beginning. Waiting until you are thirsty or hungry is too late. You need to be eating and drinking right from the start so you are banking up fuel for later, when the last thing you feel like is eating. So set an alarm on your watch or phone to go off every 20 minutes, and have a drink and something to eat each time. Small portions regularly are easier to manage than a big feed once an hour.
• Enjoy - not everyone is racing against the clock. And even if you are, take some time to enjoy the scenery. Make sure you look around and take it all in. It's part of the experience of why we do these events - the adventure and new spots that you are led to by the events. It's what we share with fellow runners or walkers afterwards, and those people back at the office on Monday who think we are all nuts for doing these runs.
• For more information about running events around New Zealand, visit www.lacticturkey.co.nz, www.totalsport.co.nz and www.sportzhub.co.nz