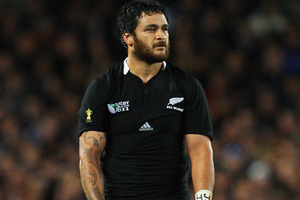 As his greatest hits go, being knocked out for the Blues against the Highlanders a fortnight ago was right up there for Piri Weepu, but the halfback insists he could have played in the first test against France.
"I was hoping to play last week actually,'' Weepu said when asked about his head. He added: "But having the extra week off and recovering has been good.''
Weepu has recovered surprisingly well after being taken off the Forsyth Barr Stadium pitch on a stretcher following his collision with Mose Tuiali'i's knee in the first half of the Highlanders' stunning victory.
"I haven't had the symptoms that some of the boys get like headaches, drowsiness or dizziness.''
He is back in the frame now and will take to the reserves bench for the All Blacks against France at AMI Stadium in Christchurch tomorrow. He has replaced Tawera Kerr-Barlow.
It is a role Weepu will probably have to get used to after being introduced to it last year because Aaron Smith was good against France at Eden Park. He picked up the first try for the All Blacks, backing up Ben Smith's excellent break on what the little halfback called "the fat man's track'' and his speed of thought and pass appears to be back after an ordinary year with the Highlanders.
For Jamie Joseph's team, Aaron Smith appears to be trying too hard organising everyone else rather than concentrating on his core roles. With the quality of players around him at the All Blacks, focusing on his quick delivery is much easier.
Asked if the Dunedin concussion was the worst he has had, Weepu, who will return to the Blues next season for what will be the last year of his New Zealand Rugby Union contract, said his one suffered when playing for the Hurricanes against the Crusaders in the foggy Super Rugby final of 2006 at Lancaster Park would have gone close.
"I don't think a lot of people remember the one here in the mist because no one could see it. That was pretty bad. I got kneed in the side of the head, which was poor tackling technique...''
- APNZ