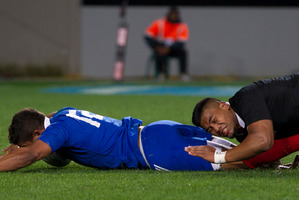 The All Blacks realise now that France's real weapon of choice is not their scrum, but their midfield.
The big lugs in the French front-row were relatively easy to tame at Eden Park, but the clever running and neat exchanges between Wesley Fofana and Florian Fritz had the All Blacks scrambling more than they have in an age.
Ma'a Nonu and Conrad Smith have faced any number of midfield combinations over the past six seasons and greater numbers still of world-renowned individual hit men all out to make their mark.
Jamie Roberts and Jonathan Davies of Wales and Brad Barritt and Manu Tuilagi of England enjoyed moments of success against the All Blacks last year, while Brian O'Driscoll, Jean de Villiers and Stirling Mortlock have caused problems at various times over the past decade.
But Fofana and Fritz did enough at Eden Park to suggest France may have a pairing the equal of Nonu and Smith.
Fofana was recently described by former All Black and current Clermont teammate Benson Stanley as world rugby's best second-five.
It's a valid claim. Fofana was the undisputed star of the Six Nations this year - his agility and timing are at a different level. Fritz brought clever angles and expert distribution to the mix last week and created the only French try when he drew Nonu out of position and then turned the ball back inside to Fofana.
Few midfields have carved through the All Blacks with such ease and grace and Nonu knows that the threat level tomorrow will be intense.
"I think they have got a few good midfielders," he said. "I thought they [Fofana and Fritz] played pretty well. How they attacked - they brought us up off the line and they had a lot of numbers so a few times I got caught looking out. The ball was already on the inside but I was looking out.
"[The French try] was my fault because I didn't set up properly. I stopped working - I stopped using my feet."
It was a timely reminder for Nonu that after three months of Super Rugby action, the stakes are a bit higher at test level, where one second of lost concentration can have a dramatic impact.
Seeing Fofana waltz under the sticks was one of those moments that clarified in Nonu's mind that he and Smith were facing an unusually dangerous beast. Not only were France capable of playing destructively good ball-in-hand rugby, but they were also willing. The second part was probably more of a surprise.
"They surprised us," said Nonu. "They were good - off turnovers they decided to play. They are a dangerous side, they turn the ball over and they run. We have got to make sure that we don't stop working.
"We defended okay in the first 20 minutes. In the second half we didn't defend as well as we wanted to. They are a side you want to get dominant tackles into."