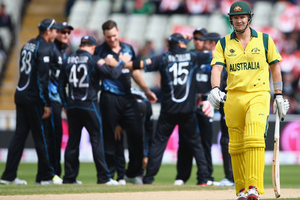 After seven of the 12 Champions Trophy pool matches, it has been refreshing to see bowlers striking back against batsmen.
Two new balls, revamped fielding restrictions, delivery variations, purpose-built cricket grounds and slower pitches are offering the necessary assistance.
The batting hyperbole that comes with six-measuring equipment, pitches polished to a sheen and the application of mere muscle memory to swing through the line of the ball for boundaries have been shelved. Runs are being earned.
Of 13 completed innings, batsmen have dominated in just four. Two came in the first match where India beat South Africa at Cardiff with both sides making over 300. England eased to 269 for six batting first against Australia at Edgbaston and India cruised to an eight-wicket win chasing 234 with 10.5 overs to spare at The Oval.
Two of the seven matches have seen chases of less than 175 narrowly achieved (including New Zealand against Sri Lanka). The average run-rate at the tournament is just 4.79 per over despite the new ODI fielding restrictions where a maximum of four rather than five players are allowed outside the 30m circle at any time. The average innings has lost a hefty 8.23 wickets out of 10.
Two new balls help bowlers get extra swing to keep batsmen cautious for longer. Teams have scored in excess of 55 just twice in the opening 10-over powerplays. For a while in ODIs it became common for scores to rocket beyond 70. That has only happened once this tournament when South Africa reached 77 for two unsuccessfully chasing 332 to beat India.
The development of the T20 format means bowlers have translated their tricks to the 50-over game. Slower balls, yorkers, an effective use of the two bouncer law per over, reverse swing and arm balls (which bring the Decision Review System into play more than in the past) have all helped reduce run rates.
They are helped by the tournament being played on proper sized grounds at The Oval in London, Edgbaston in Birmingham and Swalec Stadium in Cardiff rather than glorified backyards. Batsmen can't get away with slashing outside off stump and gloating over a boundary simply because of a comically short distance covered. There have been two sixes per innings so far (26 in 13 matches), a disparity with elsewhere in the world where monster hits are encouraged and documented via laser measuring devices. The concept quickly becomes tiresome because
it's not like distance can be cashed for more runs.
Spinners in particular are getting insurance from the extra acreage. It's now not enough to heave a ball over cow corner brandishing a modern day Excalibur. Sweepers are poised for the miscue inside the rope. Hence scoring rates come down. Added to that is extra running between wickets for twos and threes which tire batsmen, making them vulnerable to earlier dismissals.
Limited sun in the English summer has played a part. The pitches have not been baked hard and the wickets are struggling for bounce and carry. Players are forcing the pace of the ball in front of the wicket. It is presenting catches to in-fielders and misjudgements of pace which lead to lbws.
That is where slow bowling has become a weapon (an unusual statement in England during June given the prevalence for green tops). Thirty-two of the 107 wickets to fall (30 per cent) have come from spin. New Zealand captain Brendon McCullum even used a rare 30 overs from spinners Daniel Vettori, Nathan McCullum and Kane Williamson against Australia.
Pace bowler Tim Southee says the team has noted how slow bowling is impacting the tournament.
"When you come to England you have the perception it'll nip around and pace bowlers will be the main wicket-takers, but the surfaces tend to be dry. Playing two games on each one means spinners come into play more in the second match.''
He said that is significant, given a lack of swing assistance.
"I'm finding the white balls don't swing as much as they used to. I don't whether it's because the surfaces are more abrasive or it's just a bad batch [of balls]. With the training wickets on most blocks you can get the ball to scuff which helps it reverse swing more.''