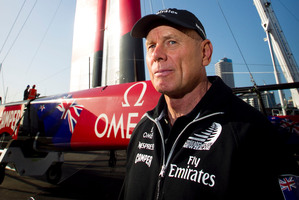 Emirates Team New Zealand boss Grant Dalton has now trained his guns on Artemis, as well as America's Cup holders Oracle. It comes after the long-awaited release of the new regatta schedule, rejigged after safety recommendations following the death of Artemis crewman Andrew Simpson last month.
Artemis said they will compete in the America's Cup but their veto of attempts to give the regatta a more credible racing schedule has frustrated Emirates Team New Zealand and Italian syndicate Luna Rossa.
The Kiwi and Italian challengers wanted to delay the regatta until mid-July (it is due to start on July 4) to give Artemis more time to catch up and to keep repetitive early scheduling to a minimum.
Dalton and others had predicted that Artemis, still to take delivery of and learn to sail their new AC72 catamaran, would not be competing until the end of July or early August. That meant Team NZ and Luna Rossa would have repeated clashes, at a cost to the excitement of the event.
But Artemis vetoed the mid-July proposal, meaning the regatta will go ahead on July 4 - even though Artemis will be a no-show for much of the Louis Vuitton regatta (to find the challenger to take on Oracle for the Cup).
The Team NZ-Luna Rossa proposal would have started on July 19 and would have encompassed only a three-team round robin, with the two top syndicates going through to the Louis Vuitton final - cutting out the semifinal. That may still have seen some Artemis-less racing but would have greatly reduced it.
Yesterday, Artemis confirmed they would take part in the Cup and organisers released a new schedule, cutting the Louis Vuitton from seven rounds to five. The new schedule has more lay days to achieve the cuts but the first Artemis-Team NZ clash is set down for July 9 - a date that everyone agrees Artemis has no chance of making.
"We are working around-the-clock to get our new boat ready, in the water and to prepare our team to race," Artemis Racing CEO Paul Cayard said in a statement yesterday. "We still have a mountain to climb, but our plan is to launch our new boat in early July and get ourselves in a position where we can race by the end of the month."
So the Cup now has the ludicrous situation of a schedule being published for races which will not occur - and Dalton was critical of Artemis' role in this.
"They just won't turn up," said Dalton when asked what would happen if Artemis were not ready to race on July 9 and thereafter. "As part of the safety recommendations, the (US$100,000) fine (for not appearing in a race) has been waived and they can just keep on not turning up."
Team NZ and Luna Rossa will battle it out to see who will go straight into the Louis Vuitton final while the loser would wait to sail against a restored Artemis to see who would fill the other Louis Vuitton finals berth.
While he was careful to emphasise the team's sympathy over the Simpson tragedy, Dalton said: "It's a Claytons schedule. I am not sure how they sugar-coated it in their statement, but Artemis vetoed the proposals. In the end, Artemis was the problem. They are the Challenger of Record and they can veto changes to the protocol - and they did.
"So the whole thing is now geared to the needs of the weakest common denominator," said Dalton. "I wonder what would happen if the Rugby World Cup had to stop and re-organise itself in an unsatisfactory way because Namibia had a few injuries. How that would go down?
"We haven't lost sight of the tragedy and we have said we are in favour of the safety recommendations but Artemis can get away with this because there are not enough teams in the America's Cup. If there were five teams, they'd be gonners; they wouldn't be here. But because there aren't enough, the regatta will have to meet their needs and Luna Rossa are paying the price."
So, too, is Oracle boss Larry Ellison, one of the richest men in the world. In the US, there has been a barrage of criticism over the wounded event. In a piece in the influential Bloomberg news service, headlined How Larry Ellison is destroying the America's Cup, writer Jonathan Mahler said: "The result is the sports equivalent of Apple's Newton or Microsoft's Bob: a disruptive, innovative, colossal failure.
"Of course, no story of a megalomaniacal billionaire imposing his will on a sport would be complete without the fleecing of taxpayers. The city of San Francisco has spent millions to redevelop its waterfront for the race, even as it has come to grips with the reality that Ellison's promises of 'economic activity' around the cup were mostly just hype. Russell Coutts, his team's CEO, is now acknowledging that mistakes have been made, and suggesting that whoever wins this year's cup will probably opt for smaller, safer boats."
Oracle's sailing chief has been conspicuous by his silence, even as the regatta puts up a racing schedule it clearly has no intention of fulfilling.