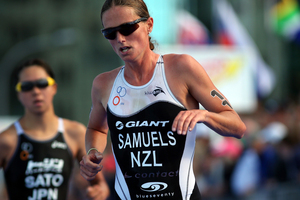 Wanaka's Nicky Samuels was the best of the Kiwis in 15th place at the ITU World Triathlon Series race in Madrid this morning (NZT).
Andrea Hewitt (Christchurch) struggled with allergies throughout the race to finish 29th and Kate McIlroy (Wellington) crashed out on the bike with grazing down her left side.
The race was won by British athlete Non Stanford from Anne Haug (Germany) and Jodie Stimpson (England) in slightly cooler conditions than is typical in Madrid, albeit still in a non-wetsuit swim race.
Samuels emerged from the water in a lead group of five and quickly went to work on the bike, establishing a two person break with Sarah Groff (USA), but with just the two of them, they could never stretch the lead on a hard working chase group to more than 30 seconds and were caught with just under two laps to ride.
"That wasn't my plan today, I thought to have a good swim and exit sixth or seventh would be good, I haven't been swimming that much but when I exited the water I thought great, I am in a perfect position and I thought we will have a nice little group to get away but after the first hill there was only three of us left and really it was Sarah and I because the Italian girl was just hanging on for dear life," Samuels said.
"We worked as much as we could together but I think we needed another athlete or two that was stronger to say away. But you try these things a hundred times and maybe it works one time out of a hundred and the other times it won't, maybe next time."
Hewitt struggled with allergies throughout the race, in particular on the bike as the race wound its way through parklands in Madrid, with a tough hill climb on each of the eight laps.
McIlroy crashed out of the race early on the bike with grazing down her left side, in particular suffering a bad graze to her hip.
"That was not an ideal result here today," McIlroy said. "I crashed on the first corner coming out of transition, hit the road pretty hard, good dose of road rash, broke helmet in two and ruined front wheel. Day over pretty quickly and I am really disappointed, but onwards and upwards."
The men race tonight at 10.30pm (NZT) with Ryan Sissons, Tony Dodds and Bryce McMaster on the start line.
- APNZ