Steep learning curve as rookie New Zealand team struggle in tropical island deep-ocean conditions.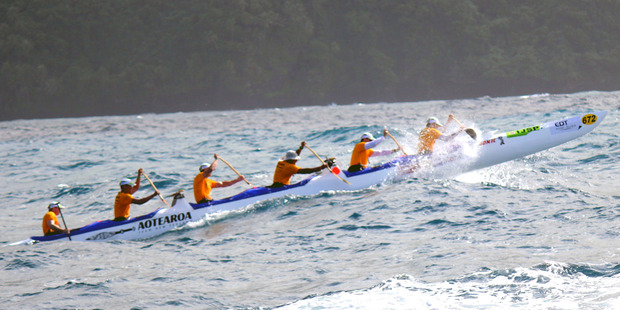 Sometimes in sport the results don't tell the full story. Twelve of New Zealand's open men's paddlers came together last weekend to contest one of the toughest outrigger canoe races in the world - attempting to circumnavigate Tahiti in the 166km Tahiti Nui Va'a 2013. It was their first time together as a team and their first time at a championship of this stature.
"We are not a champion's story yet," said Kingi Gilbert of the Akarana Outrigger Club in Takapuna who was the organiser of the mission. "We finished 23rd out of the 43 teams but like the Tour de France finishing in the top half is awesome."
The 36-year-old, who works as a designer and in marketing, said the competition was always going to be a steep learning curve. "We found out pretty quickly that training in New Zealand with cold weather and no ocean swell that we are not yet ready for tropical island deep-ocean conditions."
Gilbert likened it to the Ivory Coast taking on the All Blacks with the professionalism in their rivals' teams.
In typical Kiwi spirit, they loved taking on the best in the world. Gilbert hopes this experience is a catalyst for Kiwi success in years to come.
Q. How was the experience at the Tahiti Nui Va'a?
Fully incredible. Paddling 166km around a small island in the middle of the Pacific Ocean in the most unreal conditions, including large waves, wind, reef breaks and escort boat congestion provided a massive challenge for our New Zealand lake, harbour and river paddlers. Thankfully the 15m mega swell that arrived at world famous surf break Teahupoo the week before allowing us to experience the standard challenge and not the kind of escalating intensity that the Pacific Ocean energy can bring to open ocean outrigger canoe races.
Q. What was the standard of the competition like?
The standard was world-class. The training regime for the top professional paddling teams is 25 to 35 hours per week, and based on salaried jobs as professional athletes, so coming from a country where rugby is our professional sport, we did exceptionally well. I'm sure if we could all afford to professionally approach paddling at 25 to 30 hours per week in rougher ocean conditions we would do a lot better. To understand the professional dynamic we really needed to be here and experience it for our own eyes. Hopefully our journey here can enlighten the New Zealand paddling community and uplift our skills and focus on the sport. We always saw ourselves as a pioneering group and truly hope that this investment can be utilised, we are working with the national body to share lessons learned and maybe set up something else for the next big races, Hawaiki Nui in November.
Q. What were the conditions like in Tahiti?
It was 30C and high humidity. The first stage, 70km, was mainly small waves developed from a flotilla of escort boats and headwind, with a dominant ground swell for the last 50km. The second stage was colliding ground swells patterns from the southwest and reflective swell from reefs, we experienced strong headwind and it was difficult to establish a hull speed, stage two was really brutal. Even when resting on the escort boat one needed a deep sea fisherman's stomach to just handle the rocking and jostling. Stage two was where the experience of the Tahitian and Hawaiian paddlers came to the fore. Stage three was most enjoyable, the fastest, with following swell and wind created soft surfing conditions, three hours of interval sprint training to catch waves and rest once riding. Only afterwards, when watching the television coverage, we realised that the top teams were racing over the top of swells, no resting.
Q. It is a 166km race and described as the toughest Outrigger Canoe race in the world - how hard was it?
At the end of the second stage I realised that my body wasn't prepared for the amount of headwind paddling in the bouncy swell. After paddling at just around the aerobic threshold for the dangerous ironman section for 45 minutes, my energy started to drain. In flat conditions I can optimise the hull speed and reduce the amount of intensity to keep the hull speed high but the amount of power and oxygen one needs to keep the hull speed going in rough conditions is phenomenal. So to improve I need to be more efficient with energy expenditure in the rough conditions. I honestly think I was using energy on stress, and that stress was associated with gnarly ocean conditions. So yeah it was tough.
Q. Were you and the boys happy with your performance?
Yes, very happy. In the flat starts of day two and three we were within the top 5, perhaps even third, but once the open ocean conditions arrived we found ourselves slowly drifting back. We have a very clever team and now have a clear idea of what we need to do to do better. We always saw this trip as a learning experience and we achieved the goal.
Q. What did you learn from this?
To summarise the three days: We need to train together in open ocean to prepare for the type of conditions we will experience. Our acclimatisation programme was good and no one suffered from heat stroke. We just need to increase the volume and intensity of team training in rough conditions about three months before races like this. Whether we can achieve the result we want and still remain amateurs is highly contentious.
Q. Where to from here for the team?
We are already committed to meetings with our clubs and communities to share our knowledge - that's most important. We had a large following of supporters on Facebook and it's time to meet face to face and express our sincerest thanks for their support. The guys will return to their respective clubs and participate in the 10km winter series. We jokingly call it 10km sprint training after a 166km marathon. There is one more big 150km event in Tahiti in November. Maybe a team will go back, we will see if the NZ tiger spirit has been awakened even more.
For more information visit: www.wakaama.co.nz