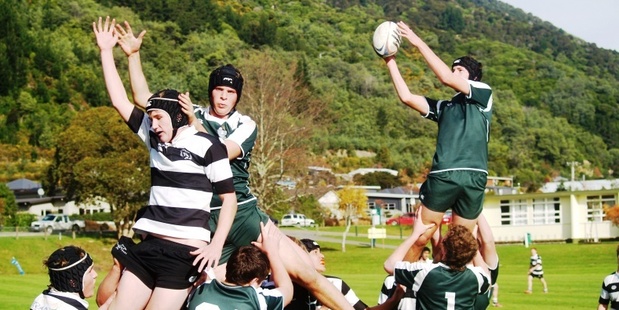 Mums, dads and other fans reported a mix of behaviour, good and bad, on the sidelines of grassroots sports around New Zealand last week.
One Canterbury girls' hockey coach reportedly called a player an "idiot" for a mistake on the field.
And in Wairoa in the Hawke's Bay, a children's rugby coach was overheard singling out players: "Smash him, he's a target," the coach shouted.
The sideline supporter who filed the report said is was "just sad" for the 7- to 9-year-olds trying to enjoy their rugby, with "kids coming off with ruck marks all over their backs in their first games of tackle, never wanting to take the field again."
Supporters filed their reports to the new interactive Rate my Game site - and the reports were mostly a celebration of heartland sport.
Steve Owers filed a match report from Upper Hutt, where Hutt Old Boys Red Rockets played Upper Hutt Jack's Palace in an U10 rugby game.
"A good game by all today," he wrote. "Great to see good teamwork throughout the game. A lot of missed first up tackles to work on boys.
"Upper Hutt did fight back at second half and scored a good try but Hutt held their heads up and didn't give up to win 65-5. Good stuff HOBM. Big thank you to all supporters from both teams and especially to the refs, you all were great."
In Palmerston North, the North End BizTrainers beat Marist Saints in a 9th grade Div 1 football match-up.
"Player of the Day was George Taylor, who took a break from his normal goalkeeping position to rack up 5 goals and 3 assists," reported one Alistair Taylor. (No relation, surely?)
"The weeks of training paid off as movement and passing opened up space to allow the team to express themselves. Ollie and Carlos were both under-used during their spells in goal, although Marist were not without forward momentum; continually broken up by the defensive rocks of Josiah and Alex.
"Although as young legs tired it became somewhat physical on the pitch, kids and parents behaved brilliantly with only the referee and the coaches to be heard."
Rate my Game is part of a new Herald on Sunday campaign to support good behaviour on the sidelines of sports fields and courts, and to back the work being done in the big winter sports codes - rugby, league, netball, football, hockey and basketball - to combat increasing numbers of "ugly" fans.
The paper has published a Sideline Code, encouraging supporters to cheer loud, cheer fair and cheer proud. You can pledge your support for the code, and to do your bit to help New Zealanders enjoy and excel at their sports.
Ambassadors including injured All Black Richard Kahui, Silver Fern captain Casey Kopua, league's Manu Vatuvei, World Cup football star Ivan Vicelich and Breakers basketball captain Mika Vukona are all joining the call for sideline supporters to set an example to kids.
The winners of L'Oreal gift packs were Sam Swain and Justine Bowden.
Bowden wins a L'Oreal Youthcode Luminosity Packs, valued at $95, for her match report when Selwyn played Rangiora in girls' hockey. "Excellent game by Selwyn to defeat Rangiora 5-0," she wrote. "The team played together well, took responsibility, found space, linked passed and finished off. Great spectator support, though one sour moment when the Rangiora coach loudly told a player what an idiot she was as she tried to take a free hit for her team when she had obviously stood on the ball."
On a more positive note, Swain enjoyed watching the Waitohi Under 6 rugby team play Renwick Green so much that he filed a report on that match, then went along to see Queen Charlotte College U16 play Moutere. "Queen Charlotte College eventually won 21 - 10 but the real winner was the large crowd. Whilst a little more patriotic than the under 6's both groups of supporters applauded good play from both teams and, while one or two supporters had some advice for the referee, no one was abusive or rude."
Swain wins a L'Oreal Men Expert Hydra Energetic Packs, valued at $40 each, with a bonus sports towel. And we have two dozen prizes of his and hers L'Oreal health and beauty packs to give away this sports season, recognising the best Rate my Game reports each week.
* Would you like to write your own match report on your kids' Saturday morning sports game? You can - with the new Rate my Game application. Rate my Game allows you to quickly and easily file a match report on any game, big or small. You can send it live from the sideline on your smartphone, or when you get home to your computer. Just click on the "Submit a report" button above the map, and then tell us about the game you're watching. Where is it? What code? Which teams are playing? Who's put in a starring performance? How are the mums and dads on the sideline - are they supportive, or are they ugly fans? Most importantly, you can rate the game by giving the sideline behaviour a big thumbs up.
* If you see remarkable behaviour on the sidelines this winter - good or bad - please get in touch by phoning 09-3739340 or emailing here.