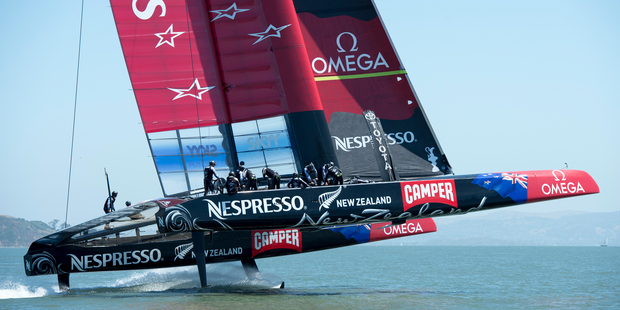 America's Cup challenger Artemis may be at a huge disadvantage, even if they get to the start line of the Louis Vuitton regatta.
There are still rumblings in America's Cup circles that Artemis will not compete after the tragic death of Andrew Simpson in that fateful capsize in San Francisco Bay.
Some say that team management is keen to continue; the sailing crew less so. Another rumour is they will compete - but will not sail if the wind rises above 20 knots.
That alone is a disadvantage. They will lose points if racing is on but they choose not to compete, for whatever reason.
However, Artemis's potential problems run deeper than that.
Their new boat isn't ready and there have been reports it needed repairs after arriving from Sweden.
Its giant wingsail was destroyed in the capsize and the new one is nowhere near ready.
There is only six weeks to go before the start of the Louis Vuitton.
That is not long to sail a new boat and learn to foil (their previous boat was of the non-foiling variety), get to grips with a new wingsail and re-stoke their confidence. Artemis's second boat has not yet been seen but is understood to have the same hull shape and beam structure as the one which capsized.
That means the new boat could still dip at the bows as it bears away - thought to be a big part of the design problem affecting Artemis (and Oracle's first boat) previously. That could make it even harder to mount a meaningful challenge.
If Artemis withdraw or take a more limited part then the Louis Vuitton contest to find the challenger to take on Oracle in the Cup match will be between Emirates Team NZ and Italy's Luna Rossa.
That comfort level - and the fact the recent safety recommendations do not represent a big threat to ETNZ's challenge - could be part of the reason for the team's surprisingly relaxed welcome to the review.
The upper limits in which racing can take place have been reduced to 20 knots in July, 21 in August and 23 in September (down from a maximum of 33 knots). Emirates Team NZ head Grant Dalton said yesterday: "Thirty-three knots was always nuts. It was crazy - you can't even get the wing up when it's blowing 33 knots."
When the wind limits were set about a year ago, they were at the insistence, according to many Cup sources, of Oracle - then keen to promote its vision of rocket-ship yachts barrelling at breakneck speeds round the course. "So we don't think that is too bad," said Dalton of the wind changes, even though Team NZ's 72-foot catamaran seems better designed and configured to handle winds at the more extreme end.
The Kiwis sailed again yesterday, this time in 22 knots of breeze - ironically now proposed as too stiff to race in for the Louis Vuitton.
"It was a really nice sail," said Dalton, "and we knew it would be. We are taking the view that we are throwing our hat in the ring; we have said in principle that we are okay with the changes and that we are not in it for any personal or team gain."
Having said that, however, the jousting re the changes may not be over yet. Because of insurance liability issues, the committee which made the new safety proposals (including the reduced allowable wind limits) can not impose them as law.
The changes are thus being parcelled up as part of the safety plan submitted to the US Coast Guard - the body which licenses the event and allows it to go ahead.
The Golden Gate Yacht Club (the host club) feels that will cover all the rules and insurance bases but the America's Cup teams will be looking into that to see if there is any wriggle room. Changes could still require teams' approval.
The Cup protocol requires a majority vote for changes to be made and changes to the class rule (affecting, for example, changes in rudders on the boats) require an unanimous vote.
So far Oracle and Artemis have tended to be a voting bloc and so have Team NZ and Luna Rossa - and teams will be wary of changes they think might not benefit them.
So, in spite of a unified feel to the new safety rules, nothing is settled.
"We need to see what happens in July and August," said Dalton. "We need to see how those new limits pan out."