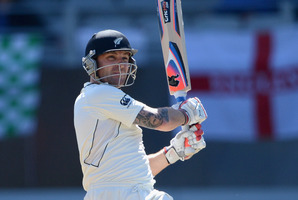 Footwork and patience have been watchwords for New Zealand's batting ahead of the second test at Headingley, starting tonight.
Coach Mike Hesson described the team as "stunned" after their collapse for 68 against England at Lord's. The visitors have no doubt suffered a painful introspection. However, it was still a touch disconcerting to see balls disappearing into the stands or wafted into the vacant outfield at training. More defence would have been reassuring but captain Brendon McCullum believes their first-test "hour of madness" was a fleeting blip and - putting the 45 in Cape Town aside for a moment - he probably deserves to be taken on trust, six tests into his tenure.
Their previous 18 days of test cricket have demonstrated consistency. Headingley was the site of New Zealand's first away test win against England in 1983 but New Zealanders have regularly struggled there with the bat. None have scored a century at the ground in six tests dating back 64 years.
Stephen Fleming came closest in 2004 with 97; Brun Smith made 96 in 1949 and John Wright led the way with a first innings 93 in New Zealand's solitary Leeds triumph.
Vice-captain Kane Williamson reiterated their difficulty with the swinging Duke ball, despite practising against it pre-tour.
"If you have limited experience with it, it's concerning how late it moves. In that hour at Lord's it really showed. Ultimately we need to learn those stiff lessons. Individuals need to make subtle adjustments.
"The ball moves a lot later, therefore the decisions you make need to be later. If you play the first line [out of the hand] you start nicking half volleys, whereas at home you'd smash those straight or through the covers.
"When I first came here for Gloucestershire [in 2011] I really noticed that because we'd come from India. That's one extreme to another. You eventually adjust but it takes some working out."
Williamson's frustration and desire has been palpable in his new leadership role. It made a difference in England's second innings during the first test when Tim Southee revealed the 22-year-old had launched some uncharacteristic stern words.
"That first hour [of the third day] we were a bit flat and [Joe] Root and [Jonathan] Trott were ticking along. They had a bit of a flow on and we were falling behind. Then BJ [Watling] got injured and Bruce [Martin] went down. It all got a bit sloppy. We were distracted and lost focus. Who knows if it needed to be said, but it was, and Tim bowled outstandingly afterwards."
Neil Wagner, the top scorer with 17 in New Zealand's second innings, says they've tried to address their stark circumstances.
"It's different to the conditions we face in New Zealand. The ball swings for longer periods and you've got to find a way of dealing with it.
"As a batting unit we've got to reset our focus to be patient for longer periods which is quite tough because you want to get going.
"Their batsmen showed it, they left a lot of our deliveries and we had to go searching. Our batsmen need to feed off that. When guys are bowling well you've got to shake your head, acknowledge it and say 'I'm going to give you absolutely nothing'."
Wagner says the lack of footwork needs addressing.
"We did feel a bit stuck at the crease and when you lose three or four quick wickets it only gets tougher. Both teams bowled exceptionally well. We can take confidence from using the swing and slope well."
The bowler in Wagner was salivating at the prospect of steaming in on an overcast day, having past experience in the nearby Lancashire league.
"It looks a typical Headingley wicket. The ball shapes around quite a bit over here and we definitely found that out at training. That's pleasing because at 1-0 down we've got to come out fighting and go balls-to-the-wall. There's no point trying to draw."