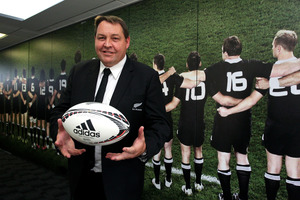 It may have been a weekend of extreme rain and dank cold, but the cockles of All Black coach Steve Hansen's heart will have been warmed by the rugby he observed in two fierce New Zealand derbies.
Most, nearly all in fact, of the players he welcomed into camp this morning flicked an invisible switch and suddenly looked hungrier, livelier, more accurate, more intense and, most importantly, a damn site more like the quality test players the coach knows them to be.
The timing was perfect - and not just because the focus will be on the national side for the next three days as they work together in Mount Maunganui. In the background is the ongoing battle to restructure the season, to give the players a calendar that no longer demands too much of them.
In arguing for change, Hansen has consistently said that test players can't hit top form in February and hold it through to late November. His expectation is that they start to shine, to dominate Super Rugby and make their presence truly felt in May.
And right on cue a handful of key men turned their respective dials from mute towards full noise.
On Friday in Wellington, Liam Messam and Victor Vito, the incumbent, battling blindsides were physical and influential. They were noticeably amped. Beauden Barrett, patchy and defensively frail for much of the season, found an air of authority that had been missing, while Aaron Cruden, appeared to have finally shaken free from a knee complaint and was skipping and hopping like the imp he is.
But it was in Christchurch where cocoon's were being cracked open. Owen Franks was quite fearsome. His scrummaging has been steady all season, but against the Blues he added a brutal defensive contribution. No one, not anyone in their right mind anyway, would particularly relish being clobbered by the younger Franks and if he can sustain his mood until the French arrive, even their notoriously blood thirsty front-row will be a touch reticent.
Sam Whitelock was imperious and his sidekick, Luke Romano, seemed ambivalent
about whether he preferred taking the fat man's track up the middle or roaming a bit wider. His athleticism became apparent when Piri Weepu showed him the touchline and he took it, out sprinting the halfback.
Kieran Read returned and like the man he will temporarily replace as All Black captain, he was able to pick up the pace immediately after five weeks on the sidelines and played as if he'd never been away. Daniel Carter tackled like a loose forward and while he wasn't able to have the influence he wanted, Keven Mealamu was a willing ball carrier for the Blues.
The blokes from the Highlanders are still a bit of a worry but it has become a common and perhaps inevitable theme that one of the five franchises will be in crises leading into June. In 2011 it was the Hurricanes; last year it was the Blues and now the Highlanders.
Hansen knows the drill: knows who to run a reform programme, muck around with a few mental wires with a yank here and a jiggle there to get the best out of those with low confidence and no form.
There's work aplenty still to be done, but at least this morning its easier to believe that the nucleus of a decent All Black side is taking shape.