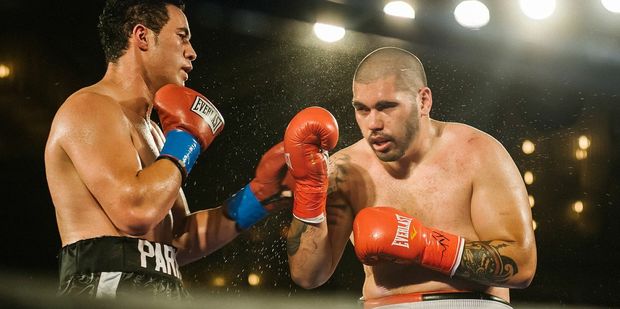 These were unusual circumstances for a New Zealand heavyweight. It was a black-tie dinner at the Hyatt Regency in Irvine, Los Angeles. Seats were worth US$3000, a table of 10 went for US$30,000. There were about 1000 people there.
Unusual, too, that the New Zealand heavyweight in such international surroundings was not David Tua. Joseph Parker, a mere 21 years old, established his credentials in this fight.
It doesn't matter that few people will have heard of his opponent, Brice Ritani - the US-born Kiwi expat who made headlines briefly when it was discovered that he is wanted by New Zealand Police for leaving the country a couple of years ago before being sentenced on a minor drugs charge.
It doesn't matter that people will look at Parker's record - five fights for five wins, four by knockout - and not recognise any of the names there.
What matters are the qualities he showed in his coming-out parade. Parker has speed, fitness, attitude and an ego submerged by his work ethic and his grounded extended family - not the other way round.
He won all six rounds against the durable Ritani, who has decent boxing credentials and is by no means one of the puddings served up for Sonny Bill Williams in his first fights.
The 25-year-old Ritani recently sparred with Hasim Rahman, the hard-hitting heavyweight who surprisingly caught the great Lennox Lewis and knocked him out in 2001 - only the second loss Lewis suffered in his career (he won the rematch, knocking Rahman out).
Parker used his jab intelligently, snapping it out with enough speed that knowledgeable judges nodded. Speed is the great differentiator between a boxer and a fighter. Parker also brought some smart combinations to bear, the speed again highly noticeable. Combinations are the quickest way to a knockout; they disorient and demoralise an opponent, especially one relentlessly coming forward as Ritani did.
It doesn't matter that Parker didn't knock him out. It wasn't the point. Parker has never before gone past three rounds. Against Ritani, he went six, clearly winning all of them. At the end, he was barely blowing, even after throwing a lot of leather.
He has a wise old fox coming up against him next month in South African heavyweight Francois Botha, who has fought some of the biggest names in the division. Botha is roughly the same shape, size, weight and durability as Ritani. He will have more cunning and ring smarts. Parker needed to walk in that zone.
The other qualities Parker showed in his international debut wereaggression and movement. Ritani a few times backed him up against the ropes or in a corner. It's a bad spot for a taller fighter to be in against a big banger.
Parker handled it easily, using crisp punches to work his way out of trouble. It's another sign of a cultured boxer or, at least, one on the way to being so.
In the sixth round, when Ritani clearly needed a knockout to win, Parker touched the accelerator, stepped up his work rate and finished strongly.
It almost doesn't matter what happens against Botha. Parker showed in this fight that he has some rarely seen qualities. He is still not fully grown into his adult body. His power will increase but hopefully not at the expense of that hand speed.
He and canny trainer Kevin Barry have been channelling Lewis in the gym; using the way Lewis used his gigantic 2.13m reach to control opponents. Lewis was also a very calm, measured fighter.
Look what Parker had to say after the fight: "I felt good and it was good to use some of the things we have been working on for ages - using my jab to control the distance. I was relaxed and calm. I didn't get uptight and nervous - that's a really good way to lose your fitness."
Barry told Parker: "I couldn't be happier. You were on point. I think you controlled the distance beautifully. If you hit Francois Botha with those shots, you will knock Botha out."
There's another Lewis connection - the Briton knocked out Botha in a title fight in 2000. Channelling him may be a smart move.